Covid-19 pandemic 'unlike any other crisis', says BI Governor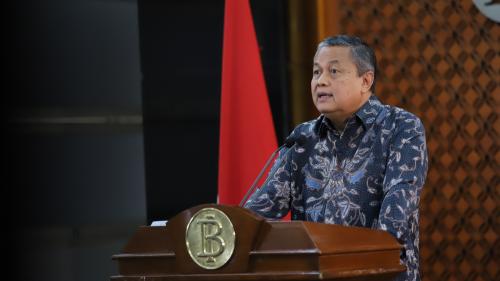 JAKARTA - Bank Indonesia (BI) Governor Perry Warjiyo stressed that the economic impact of the coronavirus (Covid-19) pandemic is not comparable to other financial crises like the 2008 global financial crisis or the 1998 Asian financial crisis.
"Remember, we are not only facing a financial market or economic issue but also a humanitarian one," said Mr Warjiyo in a press conference broadcast on BI's official YouTube channel, Thursday (26/3).
In addition, Mr Warjiyo also emphasised that timely and adequate Covid-19 handling will minimise the pandemic's negative impact on Indonesia's financial market and economy. He also affirmed that it is essential for Indonesians to comply with government instructions related to working from home, staying at home, social distancing, and other measures to prevent the spread of the virus.
"We can say that this is different from the 2008 or 1998 financial crisis. Our banking industry is overall in a healthy state with high capital adequacy ratio and our financial market is in a good condition," said Mr Warjiyo, adding that in the near future Finance Minister Sri Mulyani Indrawati will announce a fiscal stimulus to combat the economic impact of the Covid-19 pandemic. (MS)