CITA posts IDR 4.34 trillion revenue in 2020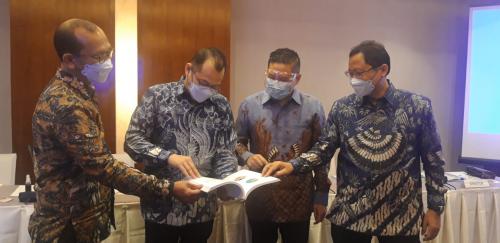 CITA - PT. Cita Mineral Investindo Tbk
Rp 2.980
JAKARTA - PT Cita Mineral Investindo Tbk (CITA), an issuer in the bauxite mining sector and the first Smelter Grade Alumina (SGA) producer in Indonesia through its associated entity PT Well Harvest Winning Alumina Refinery (WHW), recorded a positive performance in 2020, despite being affected by the Covid-19 pandemic. Throughout 2020, CITA posted net revenue of IDR 4.34 trillion. This realization increased by 11.55% compared to CITA's net income in 2019 which was only IDR 3.89 trillion.
Yusak Lumba Pardede, Director of CITA, said that despite the impact of the Covid-19 pandemic, during 2020 CITA succeeded in strengthening the Company's financial position. This can be seen from the significant increase in the value of equity and a decrease in the liability component.
"The company is optimistic about performance in 2021 in line with the improving global economy which has a positive impact on commodity prices, and there is still high interest in Metallurgical Grade Bauxite (MGB), especially for the export market. It is possible for the Company and WHW to expand market share and diversify sales of SGA and MGB, in order to obtain promising sales expansion opportunities."
In 2020, CITA succeeded in selling 7.95 million tonnes of MGB, of which 85.49% or around 6.79 million tonnes were export sales while the remaining 1.15 million tonnes was sold domestically to WHW associates. Total sales volume increased by 8.37% compared to 2019. Meanwhile, SGA sales volume remained stable, namely 1.06 million tons from 2019. The Company also obtained export quotas from the Government of 4.03 million tons respectively in April 2020 and 4, 26 million tons in October 2020 which is valid for 1 year until 2021. (LM)