Ministry of Industry and industry associations sent 3,500 oxygen cylinders to India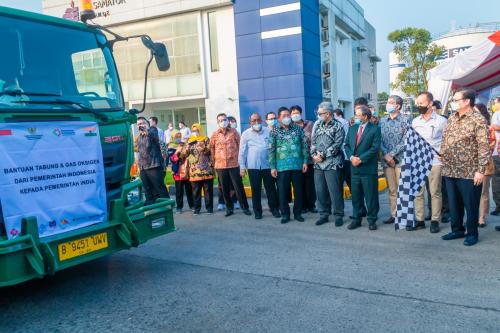 JAKARTA - The Ministry of Industry is collaborating with industry associations and players to help India meet the need for oxygen cylinders for the treatment of Covid-19 patients. This contribution is expected to ease the impact of the Covid-19 pandemic that is currently hitting India.
"Currently, India is experiencing the second wave of the Covid-19 pandemic which has a more severe impact than the first wave pandemic," said Minister of Industry Agus Gumiwang Kartasasmita at the Oxygen Cylinder Release to India event held at PT. Samator Gas, Cikande Modern Industrial Estate, Serang, Banten.
The Ministry of Industry together with associations and industry players initiated the delivery of aid in the form of oxygen cylinders to India as many as 1,400 units in the first phase of the total 3,500 units to be sent. "The first stage will consist of 1,400 oxygen cylinders with a capacity of 6 cubic meters (equivalent to 40 liters) which will be sent in five containers," he said.
The details of the list of industry participation in the delivery of the first phase of assistance are as follows:
- Indonesian Industrial Gas Association: Coordinating the procurement of oxygen cylinders and contents for 3,500 cylinders;
- PT Samator: Coordinating the procurement of oxygen cylinders and contents for 3,500 cylinders;
- PT Indorama Ventures Indonesia: Financing 280 cylinder and shipping 1 container;
- PT Indo-Rama Synthetics, Tbk: Financing 280 cylinders and shipping 1 container;
- PT Asia Pacific Fibers, Tbk .: Financing 280 cylinders and shipping 1 container;
- PT Indo Bharat Rayon (Aditya Birla Group) and PT Mutu Gading Tekstil: Financing of 280 cylinders and shipment of 1 container; and
- Financing of 280 cylinders and shipment of 1 container by the Carpet and Prayer Mat Industry Association. (LM)