Wika Beton earns IDR 3.28 trillion new contract as of August 2021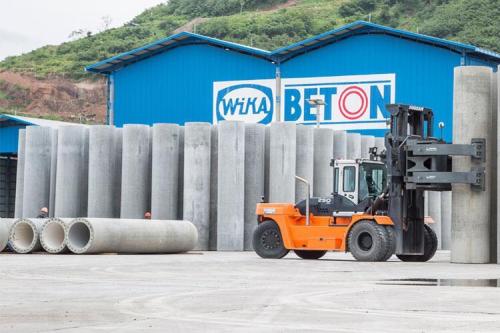 WTON - PT. Wijaya Karya Beton Tbk
Rp 214
JAKARTA - PT Wijaya Karya Beton Tbk. (WTON) managed to record new contracts of IDR3.28 trillion until August 2021, a significant 53% increase from the same period last year of IDR2.14 trillion. Several large projects that contributed to the Company's performance were dominated by projects in the infrastructure sector at 76.13%, followed by projects in the property sector at 13.56%, and the rest came from the energy, mining, and industrial sectors each contributing 9.36%, 0.16%, and 0.79%. The acquisition of this new contract came from WIKA 10.90%, Government 2.83%, SOE 18.49%, and private sector 67.78%.
Major projects that support WIKA Beton's performance include the Jakarta-Bandung High Speed ​​Train, Batang Integrated Industrial Estate, NCICD Coastal Safety Embankment, Serpong-Balaraja Toll Road, Bogowonto River Estuary Guard, Balikpapan RDMP, Section 3 Cinere-Jagorawi Toll Road. AP Pettarani, Construction of Elevated Construction Facilities & Infrastructure, PLTU Sulut-1 Binjeita, and others.
According to the WTON financial report ending on June 30, 2021, the company managed to record a turnover of contracts up to June 2021 amounted to IDR2.51 trillion or 74% compared to the same period in 2020 which was IDR1.44 trillion. Meanwhile, net profit was IDR35.76 billion in the first half of 2021, up 4.6% from the same period last year of IDR34.18 billion. This profit was supported by a sales turnover of IDR 1.26 trillion.
For the realization of WIKA Beton's capex until the second quarter of 2021 it reached IDR5.5 billion, most of which was allocated for the purchase of factory equipment. Meanwhile, the projected capex until the end of the year budgeted by the Company is IDR335 billion. This fund will be used for equipment investment, Supply Chain Management development investment, and the construction of a Pipe Factory for the Jatiluhur SPAM Project, as well as the Slabtrack Mobile Plant for the Jakarta Bandung High Speed ​​Rail Project. The acceleration of Government infrastructure projects scheduled for completion in 2021 to 2022 will be a catalyst for the absorption of the Company's capex. (LM)