After its rebranding, AGRO to launch a rights issue of 2.15 billion shares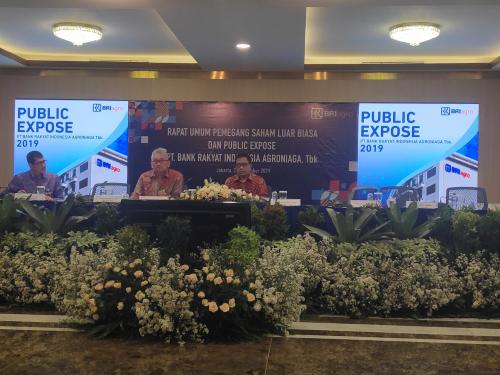 JAKARTA. The Extraordinary General Shareholders Meeting of PT Bank Rakyat Indonesia Agroniaga Tbk (AGRO) had agreed to the idea of changing the company's name to PT Bank Raya Indonesia Tbk.
Hirawan Nur Kustono, Corporate Secretary of AGRO, confirmed that 98.15% of the shareholders approved this rebranding plan during the said meeting held earlier this week. On the same occasion, the shareholders also gave the green light to the issuance of new shares with preemptive rights, or a rights issue.
The new shares to be offered by AGRO would amount to 2.15 billion units, taken out of its stock portfolio. It equals 9.96% of the entire issued and paid-up capital.
The management has yet to announce the execution price for the upcoming issued shares in the rights issue. However, if we were referring to the average stock price during the closing bell within the last 25 days, which was IDR 2,305 per share, the company would potentially gain fresh funds of up to IDR 4.96 trillion from this corporate action.
According to idnfinancials.com, PT Bank Rakyat Indonesia (Persero) Tbk (BBRI) still owns the majority of the shares with 86.09% ownership. Then, public investors seize another 13.87% of the shares, while the remaining portion is divided among the company's directors. (KR/ZH)