Indonesia focuses on building electric vehicle ecosystem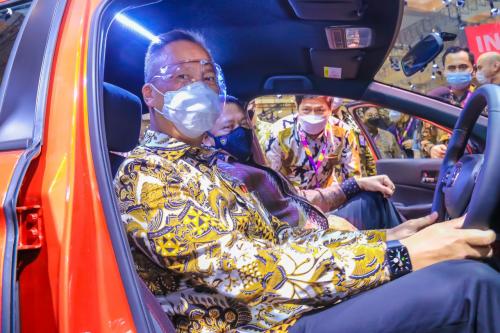 JAKARTA - Indonesia has declared its readiness to enter the era of electric vehicles. This determination was strengthened through the issuance of Presidential Regulation Number 55 of 2019 concerning the Acceleration of the Battery Electric Vehicle (BEV) Program for Road Transportation.
"Next, in the National Industrial Development Plan (RIPIN), the priority for the development of the automotive industry in the 2020-2035 period is the development of electric vehicles and their main components such as batteries, electric motors and inverters," said Industry Minister Agus Gumiwang Kartasasmita at a webinar with the theme " Quo Vadis of the Indonesian Automotive Industry in the Era of Electrification", Friday (15/10)
The Minister of Industry also stated that the Government has set a roadmap for the development of the Battery-Based Electric Motor Vehicle (KBLBB) industry through Minister of Industry Regulation Number 27 of 2020 concerning Technical Specifications, EV Roadmap and Calculation of Domestic Local Content Levels (TKDN).
The government targets BEV production in 2030 to reach 600 thousand units for 4 wheels or more, and 2.45 million units for 2 wheels. "Electric vehicle production is expected to be able to reduce CO2 emissions by 2.7 million tons for 4 wheels or more and by 1.1 million tons for 2 wheels," said the Minister of Industry.
In addition, in order to encourage BEV industrialization, the government provides various fiscal and non-fiscal incentives for BEV consumers, such as the imposition of a Luxury Goods Value Added Tax (PPnBM) of 0% (PP No. 74/2021), a tax on transfer of motor vehicle ownership rights (BBN-KB) of 0% for KBLBB in DKI Jakarta Provincial Government (Pergub No. 3/2020). (LM)