Ministry of Industry optimizes essential oil downstream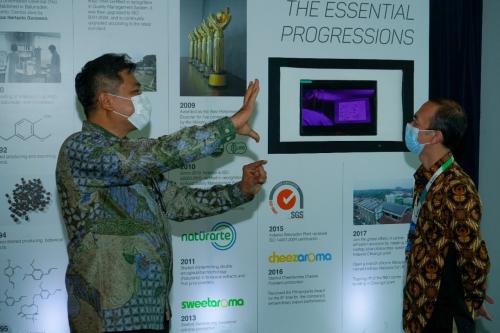 JAKARTA - The Ministry of Industry continues to encourage the development of the downstream essential oil industry (IHMA) so that it can be more competitive. Moreover, Indonesia has the potential for the availability of diverse raw materials, even being home to about 40 types of essential plants from 99 types of essential plants in the world. This is a potential for increasing economic value added through the domestic processing industry.
"Indonesia as a tropical climate country has high biodiversity, so it can become an epicenter for the development of the IHMA sector. There are still great opportunities to expand their business or increase their investment in order to open up many job opportunities," said Plt. The Director General of Agro Industry of the Ministry of Industry, Putu Juli Ardika during a working visit at PT. Indesso Aroma, Cileungsi, Bogor, Friday (15/10).
Plt. The Director General of Agro Industry stated that essential oils have been used as industrial raw materials for essences, flavors and fragrances. The total production of Indonesia's main essential oils reached 8,500 tons in 2020.
Several types of Indonesian tropical essential oils include clove oil, citronella, patchouli, nutmeg, vetiver, and eucalyptus. "In addition, processed essential oil products are also used as raw materials for the herbal and phytopharmaceutical industry, such as ginger oil and fennel oil. All types of essential oil derivative products are believed to have efficacy positive for health," he explained.
Putu said that his party had identified the potential for great economic value from the IHMA sector. In the downstream sector, there are major global players who have operated essential oil processing plants. In the upstream or plantation sector, there are hundreds of thousands of essential farmers who are suppliers of industrial raw materials. (LM)