Avia Avian channelled IDR 1.41 trillion to Tirtakencana Tatawarna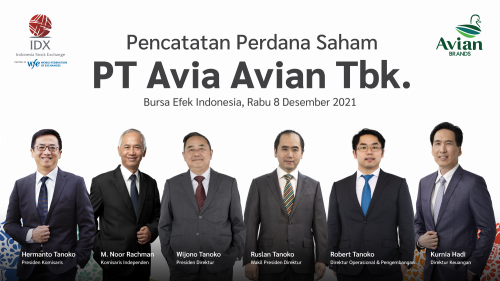 AVIA - PT. Avia Avian Tbk
Rp 745
JAKARTA – PT Avia Avian Tbk (AVIA) injected additional capital worth IDR 1.41 trillion to PT Tirtakencana Tatawarna (TKTW). This additional capital disbursement to its subsidiary occurred at the same time as AVIA's debut in Indonesia Stock Exchange (IDX) yesterday (8/12).
Kurnia Hadi Sinanto, Corporate Secretary of Avia Avan, claimed that the company covered 2.83 million shares of IDR 500 thousand each, while Wijono Tanoko, President Director of AVIA, participated with two units of shares. "After this capital raise, TKTW's authorised capital shifts to IDR 8 trillion from IDR 2 trillion, while the issued and paid-up capital reaches IDR 2.12 trillion from IDR 709.24 billion," he added in the information disclosure quoted Thursday (9/12).
The purposes of this capital injection in TKTW include funding the working capital of IDR 950 billion, adding the capital expenditure budget of IDR 85 billion, and covering debt payment to PT Bank Mandiri (Persero) Tbk (BMRI) of IDR 380 billion.
Last week, from December 2 to 6, 2021, AVIA offered 6.2 billion shares for a total of IDR 930 billion, projecting to raise IDR 5.76 trillion. The assigned underwriters for the said corporate action were PT Mandiri Sekuritas, PT Morgan Stanley Sekuritas Indonesia, PT Trimegah Sekuritas Indonesia Tbk (TRIM), PT UBS Sekuritas Indonesia, PT Credit Suisse Sekuritas Indonesia, and PT Danasakti Sekuritas Indonesia. (LK/ZH)