Telkomsel and Kredivo initiate BNPL Telco service "Telkomsel Paylater"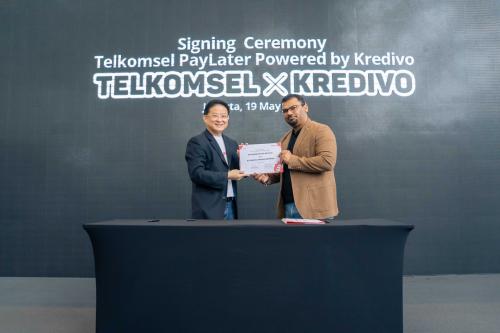 JAKARTA - PT Telekomunikasi Selular (Telkomsel) collaborated with PT FinAccel Finance Indonesia (Kredivo) in order to develop a Buy Now Pay Later (BNPL) digital financial service solution specifically for telcos for all Telkomsel customers, namely Telkomsel PayLater. The collaboration agreement was marked by the signing of a Cooperation Agreement between the two parties in Jakarta, (19/5). In this collaboration, Telkomsel and Kredivo will optimize their digital ecosystem assets to open more opportunities by providing easy financing for integrated digital products, which can be accessed anytime and anywhere by customers through the MyTelkomsel application.
Director of Planning & Transformation Telkomsel Wong Soon Nam said, "BNPL's digital financial services are currently growing in line with the increasing adoption of people's digital lifestyles in the midst of a pandemic. Based on research by IDC InfoBrief: How Southeast Asia Buys and Pays, Driving New Business Value for Merchants1 released in November 2021, paylater transactions in Southeast Asia will reach USD 8.8 billion by 2025. In that year, Indonesia has the potential to become BNPL's largest market in Southeast Asia, with the total spending of people using BNPL increasing 8.7 percent compared to 2020. This is an opportunity that Telkomsel wants to achieve through the collaboration with Kredivo. This collaboration is a tangible manifestation of Telkomsel's commitment as an enabler to open up more opportunities for progress for all levels of society in obtaining innovative digital-based solutions that touch all sectors of life, which this time we are implementing through the BNPL digital financial product specifically for telcos, under the name Telkomsel PayLater."
This collaboration is also part of Telkomsel's efforts to always make it easy for customers to always be connected and enjoy a variety of Telkomsel's leading digital products and services for various needs. In order to open up all opportunities and provide digital financial services that exceed customer expectations, Telkomsel chose Kredivo as a strategic partner who has various experiences and ecosystem advantages for BNPL services.
As an initial stage, Telkomsel and Kredivo have presented the Telkomsel PayLater service through the MyTelkomsel super apps in April 2022. The presence of Telkomsel PayLater opens a new digital experience for all Telkomsel customers in utilizing digital financial solutions more easily, comfortably, and safely. To encourage the use of the newly presented digital solution, at this early stage Telkomsel PayLater through Kredivo will provide a PayLater limit of up to Rp. 30,000,000 which can be submitted and obtained by selected customers. This limit can be used by customers to finance various Telkomsel products, ranging from credit, data packages, digital products, and other leading Telkomsel services. (LM)