Government focuses on developing industrial areas to boost investment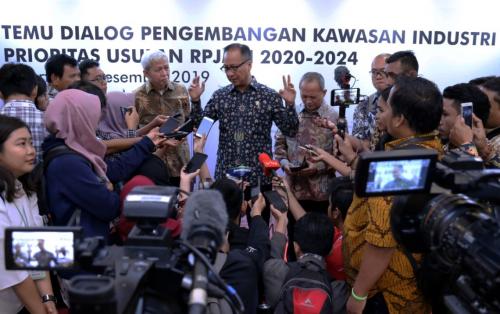 JAKARTA - The government is currently focusing on developing industrial areas to boost investment and the national economic growth.
"This strategic measure is in line with Law No. 3/2014 on Industries, because industries must be based in specially-designed areas," said Industry Minister Agus Gumiwang Kartasasmita at the Dialogue on the Development of Prioritised Industrial Areas event in Jakarta, Tuesday (10/12).
According to Mr Kartasasmita, there are currently 103 industrial areas in operation with areas totalling 55,000 hectares. In addition, there are 15 industrial areas under construction and 10 in the planning stage.
"Out of the 103 operational industrial areas, 58 are located in Java," Mr Kartasasmita added. 33 are located in Sumatra, eight in Kalimantan, and four in Sulawesi.
To drive the growth of industrial areas, the government is also committed to creating a conducive investment climate in order to gain investors' confidence.
"Thus, we need comprehensive government policies through both fiscal and non-fiscal incentives… We appreciate a number of regional governments who have recommended more industrial areas in their regions," said Mr Kartasasmita. (MS)