Government to tax digital transactions to achieve 13% tax ratio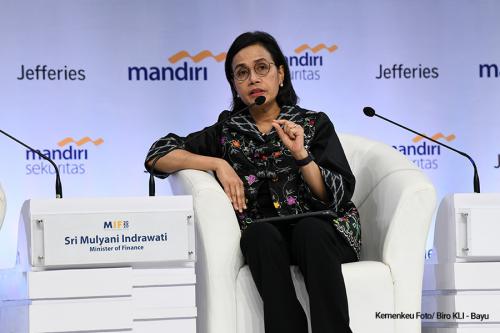 JAKARTA - The government will impose a tax on digital economic transactions as part of its effort to increase tax compliance and achieve a tax ratio target of 12.6%-13.72%.
"Tax digitalisation is very important, not only locally but also globally. There will be a section of the Taxation Omnibus Law that will focus on tax digitalisation," said Finance Minister Sri Mulyani Indrawati at the 2020 Mandiri Investment Forum at the Fairmont Hotel, South Jakarta on Wednesday (5/2).
On the occasion, Ms Indrawati also affirmed that the Taxation Omnibus Law is expected to improve Indonesia's investment climate and attract more foreign direct investment (FDI).
"One of the things that we will focus on through the Taxation Omnibus Law is facilitating economic improvement, especially in terms of the income tax. Among others, the income tax will be abolished for domestic and foreign players," said the former World Bank Group Managing Director.
Through the Taxation Omnibus Law, Ms Indrawati added, the corporate income tax will be lowered gradually until 2023. The regulation will also abolish the dividend tax with certain criteria and provide comprehensive tax incentives. (MS)