OCBC NISP announces partnership with AwanTunai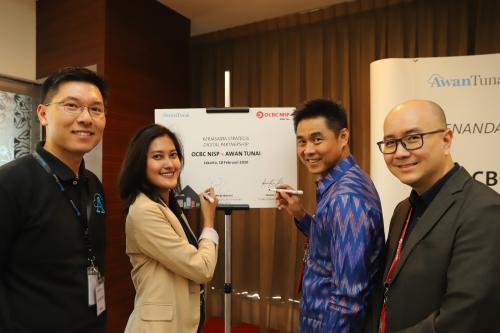 NISP - PT. Bank OCBC NISP Tbk
Rp 900
JAKARTA - As a form of its commitment to support the empowerment of MSMEs in Indonesia through a digital partnership program, Bank OCBC NISP signed a credit channeling collaboration with one of the start-up companies in financial technology namely PT Simplefi Teknologi Indonesia (AwanTunai) on February 10.
"Bank OCBC NISP realizes that MSMEs have a large and crucial contribution to the Indonesian economy. For this reason, attention and support from various parties are needed, especially from financial industry players to help MSMEs in Indonesia continue to grow by utilizing digital developments. This encouraged Bank OCBC NISP to establish a digital partnership with AwanTunai as one of the manifestations of the Beyond Banking strategy. Through this strategy, Bank OCBC NISP wants to take advantage of the potential start-up in providing transformative value for MSME sector actors. With a long experience of more than 78 years, Bank OCBC NISP is ready to provide quality financing facilities to be distributed by AwanTunai to MSME entrepreneurs in the form of supply chain financing," said Bank OCBC NISP Director Thomas Low.
Through this digital partnership program, Bank OCBC NISP is ready to support AwanTunai in providing Supply Chain Financing to micro businesses in Indonesia. This collaboration is based on a consistent commitment between Bank OCBC NISP and AwanTunai, which is to drive the Indonesian economy, one of which is through strengthening the financial health of MSME entrepreneurs.
Previously, AwanTunai had also received an fund injection from OCBC NISP Ventura (ONV) to develop its business. As one of the investees from ONV, Bank OCBC NISP is open to synergize and collaborate to provide added value to AwanTunai in providing services to its customers. (LM)