Government officially proposes Job Creation Bill to House of Representatives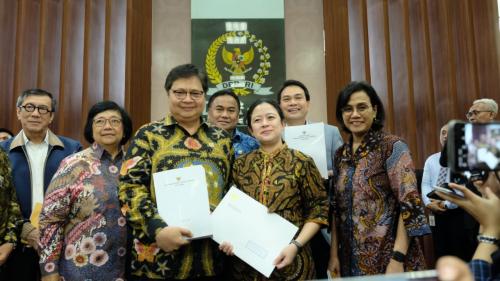 JAKARTA - The government has officially submitted the presidential letter, draft, and academic script of the Job Creation Bill to the House of Representatives, Wednesday (12/2).
In the handover the government was represented by Coordinating Minister for Economic Affairs Airlangga Hartarto, Finance Minister Sri Mulyani Indrawati, Agriculture and Land Planning Minister Sofyan Djalil, Manpower Minister Ida Fauziyah, Law and Human Rights Minister Yasonna Laoly, and Environment and Forestry Minister Siti Nurbaya Bakar, while the House was represented by Speaker Puan Maharani and Deputy Speakers Rahmat Gobel and Azis Syamsuddin.
"Everything has been completed. The government has submitted [the bill] to the House of Representatives to be processed in accordance with the proper mechanisms," said Mr Hartarto in an official statement on the Cabinet Secretariat's website, Thursday (13/2).
"It is expected that the public is aware of what is being discussed and decided as well as its impact on the national economy. [The bill] purely aims to create jobs, because considering global situations, including the coronavirus outbreak, one of the solutions to job creation is an economic structural transformation, which is contained in the bill."
Going forward, said House Speaker Puan Maharani, the Job Creation Bill discussion will involve seven House commissions. The bill consists of 15 chapters and 174 articles, formulated based on the Omnibus Law method that affects 79 laws. (MS)