Blue Bird provides disinfectant booth for sterilization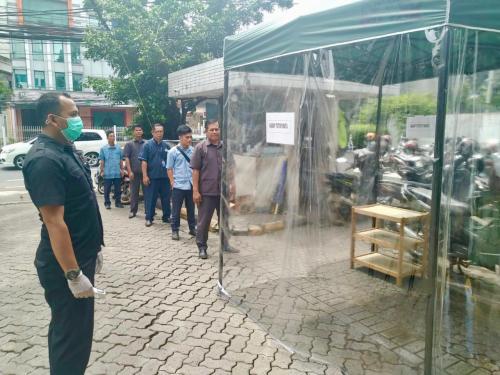 JAKARTA - Starting from March 23, 2020, PT Blue Bird Tbk (BIRD) periodically implemented the process of spraying sterilization for drivers and employees through a disinfectant booth. The disinfectant booths provided in all Bluebird Group pools and offices are part of a series of preventive measures taken by the company to ensure the safety of employees, drivers and users of Bluebird Group services.
Noni Purnomo, President Director of PT Blue Bird Tbk, said "We at Bluebird, are seriously anticipating the spread of COVID-19 virus. We provide this disinfectant booth specifically for employees and guests who want to enter the Bluebird Group office building including Bluebird Group drivers before they start operating to serve the community. We hope that this step can further improve the level of hygiene and cleanliness in the Bluebird Group environment including our fleets."
In addition to disinfecting booth facilities, Bluebird Group has implemented a series of preventive measures to ensure the safety and comfort of passengers when traveling using Bluebird Group transportation services. These steps range from internal counseling, thorough cleaning of the fleet after operation, and distribution of reusable masks for drivers who need them and hand sanitizers in each fleet.
Besides providing JPK3 (Employee and Family Health Care Security) service facilities available at each pool clinic, BIRD also provides coupons that can be exchanged with food for Bluebird drivers that are going to work. (LM)