Sri Mulyani confident that economic growth will remain at around 2.3%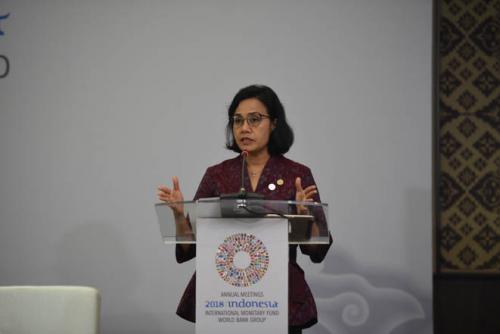 JAKARTA - Finance Minister Sri Mulyani Indrawati has said the government is confident that Indonesia's economic growth this year will remain at around 2.3% despite predictions of lower state revenue due to the coronavirus (COVID-19) pandemic.
This was conveyed by Ms Indrawati in a virtual work meeting with the House of Representatives' Commission XI on Monday (6/4). The government, said the former World Bank Managing Director, will continue to study the pandemic thoroughly in order to mitigate its impact on public health and the economy.
"[The government is committed to] increasing spending on the health sector, guaranteeing social protection, providing extra social security amid mobility restrictions, and protecting the business world by providing tax incentives and relaxation," Ms Indrawati told the meeting as quoted from an official statement on the Ministry of Finance's website, Tuesday (7/4).
This year state revenue is predicted to drop 10% to Rp 1,760.9 trillion with Rp 2,613.8 trillion in expenditures. Nevertheless, Ms Indrawati affirmed that several industrial sectors can increase activities amid social restrictions such as the textile industry that produces surgical masks and personal protective equipment (PPE) as well as the pharmaceutical and health equipment industries.
"Every week and every month we will update this year's Budget outlook. The President's instruction is very clear; we need to prepare all forms of ammunition such as more spending on public health, social safety net, and support for businesses," said Ms Indrawati. (MS)