Transcoal Pacific will distribute cash dividends worth Rp 25 billion
TCPI - PT. Transcoal Pacific Tbk
Rp 7.175
JAKARTA. In the meeting of shareholders of PT Transcoal Pacific Tbk (TCPI), it was decided that the company will distribute cash dividends of Rp 25 billion, 9.28% of its net profit in 2019.
The value of dividends to be distributed by the company is smaller than last year, mainly due to the impact of COVID-19 on the company's performance.
According to idnfinancials.com data, TCPI's revenue and net profit in Q1 2020 were lower than in Q1 2019. The company's total revenue declined by 24.3% year on year (YoY) to Rp 449.56 billion in Q1 2020, while its net profit dropped significantly by 69.92% YoY to Rp 22.13 billion.
After distributing cash dividends, TCPI management will keep Rp 2 billion as a reserve fund. Then Rp 25 billion or 9.28% will be kept as retained earnings. (KR/AR)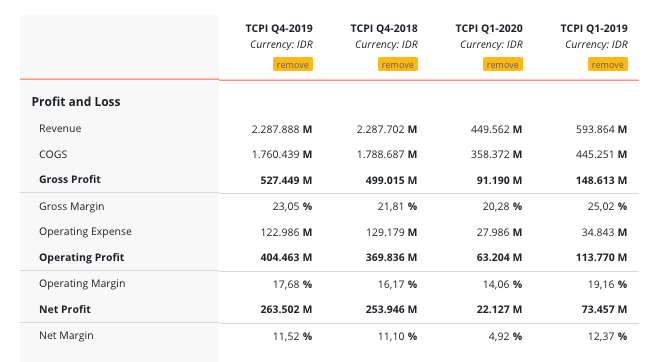 TCPI performance 2019 to 2020 - Source: idnfinancials.com