INOV to distribute dividend Rp 7.50 per share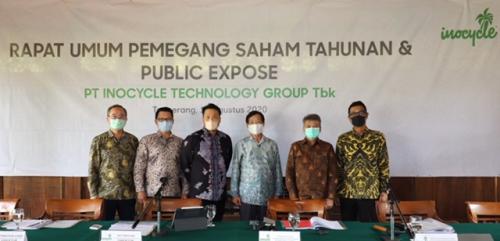 INOV - PT. Inocycle Technology Group Tbk
Rp 153
JAKARTA - The results of the Annual General Meeting of Shareholders (AGMS) of PT Inocycle Technology Group Tbk (INOV) decided to distribute dividends for the 2019 fiscal year of Rp 13.5 billion. This amount is equivalent to 59.89% of the company's total net profit in 2019.
Director of INOV, Victor Choi said, "One of the AGMS results was to approve the use of INOV's 2019 net profit of IDR 13.5 billion or IDR7.50 per share as dividends to INOV shareholders. This is the first year for INOV to hold AGMS also to distribute cash dividends to shareholders after being officially listed on the Indonesia Stock Exchange last year. We hope INOV's performance continue to grow as well as to provide outstanding performance for all shareholders and stakeholders."
In the midst of the Covid-19 outbreak, INOV's performance in the first semester of 2020 was relatively stable, recording an income of IDR235.2 billion, or a correction of 1% from the same period in the previous year.
INOV is expanding to Sumatra by opening a facility in Medan (Deli Serdang) this year, it aims to expand and secure the supply chain for INOV raw materials, namely plastic bottle waste (PET) for Re-PSF products. The washing facility in Medan has started collecting plastic bottle waste in early July 2020, and will later be equipped with a factory to produce Re-PSF. (LM)