IPC IV commences Benteng Port modernisation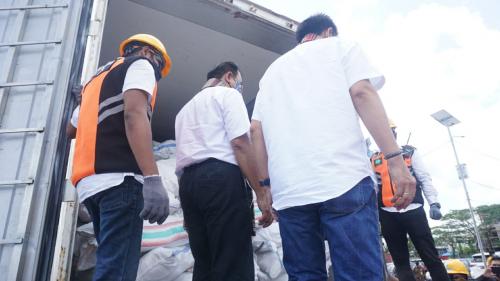 SELAYAR - Indonesia Port Corp (IPC) IV officially commenced the modernisation of Benteng Port in Selayar Regency, South Sulawesi on 9 September 2020.
According to Pelindo IV CEO Prasetyadi, the ports' modernisation was a follow-up to a memorandum of understanding (Mou) signed by the company and the Selayar Regency Government prior. The modernisation is run by the company's subsidiary SBU Intan Terminal Petikemas Indonesia Timur.
"This is a proof that IPC IV, through its subsidiary SBU Intan Terminal Petikemas Indonesia Timur, is present to help boost economic growth in Selayar Regency," Mr Prasetyadi said in an official statement on the Ministry of State-owned Enterprises' website, Monday (14/9).
The modernisation of Benteng Port was marked by the unloading of 20 containers and the loading of 15 containers of coconut, copra, and charcoal, as well as the loading of two containers of seafood. Going forward, IPC IV seeks to fill 2,000 m2 of heap field in Benteng Port with 100 twenty-foot equivalent units (TEUs) of containers every month.
"It's our initial target. Going forward, we expect to increase the amount to 200 containers per month," said Intan Terminal Petikemas Indonesia Timur General Manager Jusuf Junus. (MS)