Bluebird launches the logistics service BirdKirim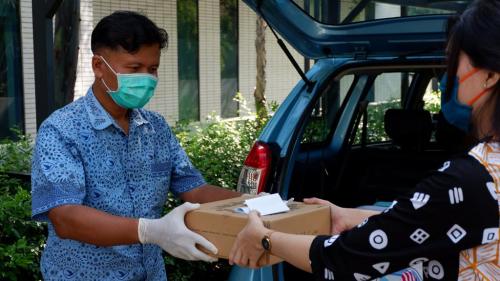 JAKARTA - On September 14, 2020, large-scale social restrictions (PSBB) were again strictly enforced by the DKI Jakarta Provincial Government. The reintroduction of the PSBB which limits community activities outside the home is expected to reduce the spread of COVID-19. Seeing this, PT Bluebird Tbk (BIRD) as a transportation service solution offers a solution to fulfill the needs of the community during activities at home through a logistics service program, namely BirdKirim.
Aninda Perdana, General Manager of Corporate Communications, PT Blue Bird Tbk said, "We are aware that the role of all parties is needed to jointly face the pandemic. The role of the community, in accordance with the appeal from the government, is to reduce non-essential activities outside the home. Therefore, through the BirdKirim logistics program, we are able to continue to be a solution for people to continue their activities at home but must meet various needs, ranging from foodstuff needs, household needs, delivery of goods and others."
For information, BirdKirim is available as a feature in the MyBluebird application service. After selecting the BirdKirim service type in the application, consumers can fill in the details of the Pickup (pick-up point) and Destination (destination). Furthermore, the subscriber will get a nominal price based on a fixed price, where payment can be made via cash or non-cash methods. Then fill in the type of goods to be delivered or taken, then the Bluebird driver with health protocol will pick up the item according to the order.
To maximize the reach of BirdKirim's services to the public, Bluebird Group has also collaborated with various partners from different business lines, including Dharmawangsa Hotel, Aston Priority Simatupang Hotel, Mall Plaza Indonesia, Central Park, Neo Soho, ICE BSD Restaurant. (LM)