House approves 2021 Budget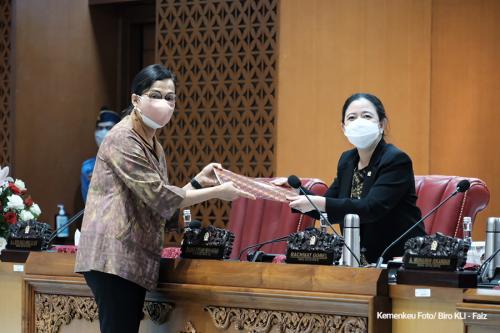 JAKARTA - The House Representatives officially made the 2021 State Budget Bill into law at a plenary meeting with Finance Minister Sri Mulyani Indrawati on Tuesday (29/9).
In the 2021 Budget, state revenue is set at Rp 1,743.6 trillion consisting of Rp 1,444.5 trillion in tax revenue and Rp 298,2 trillion in non-tax revenue, while state expenditure is set at Rp 2,750 trillion consisting of Rp 1,954.4 trillion for the central government and Rp 298.2 trillion for regional transfers and village funds.
"The state revenue target is facing very difficult challenges as the business world is yet to recover from the COVID-19 pandemic," Ms Indrawati said in a speech at the plenary meeting as quoted from the Ministry of Finance's website.
"The 2021 tax revenue target is adjusted to the 2020 baseline, which has been under pressure amid the COVID-19 pandemic, but we are still committed to maximum effort to maintain the basis of state revenue."
The focus of national expenditure, said Ms Indrawati, is not only on economic recovery amid the ongoing coronavirus (COVID-19) pandemic, but also on establishing foundations in human resources, productivity improvement and innovation increase, and infrastructure development.
In addition, she also asserted that recommendations from House factions in the ratification of the 2021 Budget will be thoroughly considered by the government in exercising fiscal management in 2021 in terms of state revenue, effective spending, deficit control, and budget financing management. (MS)