Jasamarga increased toll road tariffs due to inflation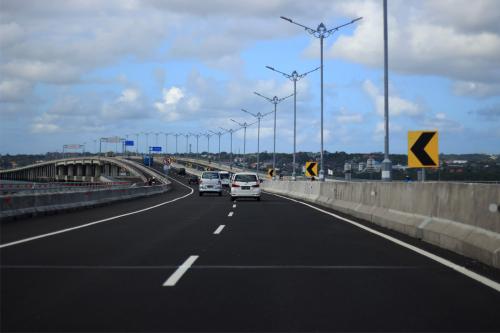 JSMR - PT. Jasa Marga (Persero) Tbk
Rp 4.680
JAKARTA - such as the Palimanan-Kanci (Palikanci) Toll Road, Semarang Toll Road Sections A-C, and Surabaya-Gempol Toll Road.
JTT management explained that the tariff adjustment was in accordance with a number of decisions made by the Minister of Public Works and Public Housing, Law Number 38 of 2004, and Government Regulation Number 30 of 2017.
"In accordance to the aforementioned regulation, toll rate evaluation and adjustment are carried out every two years, influenced by inflation rate," said JTT Management through an official statement received by idnfinancials.com.
The following is a list of toll tariff increases on a number of Transjawa toll roads:
Palimanan-Kanci Toll Road Tariff Adjustments

Group l: IDR 12,000 to IDR 12,500
Group II: IDR 15,000 to IDR 18,000
Group III: IDR 21,000 to IDR 18,000
Group IV: IDR 27,000 to IDR 30,000
Group V: IDR 32,000 to IDR 30,000

Semarang Toll Road Sections A, B, C Tariff Adjustments

Group I: IDR 5,000 to IDR 5,500
Group II: IDR 7,500 to IDR 8,000
Group III: IDR 7,500 to IDR 8,000
Group IV: IDR 10,000 to IDR 10,500
Group V: IDR 10,000 to IDR 10,500

Surabaya-Gempol Toll Road Tariff Adjustments

Open System (Dupak-Waru)

Group I: IDR 3,500 to IDR 5,000
Group II: IDR 4,500 to IDR 8,000
Group III: IDR 6,000 to IDR 8,000
Group IV: IDR 7,500 to IDR 10,500
Group V: IDR 9,000 to IDR 10,500

Closed System (Waru-Porong)

Group I: IDR 4,500 to IDR 9,000
Group II: IDR 6,000 to IDR 14,000
Group III: IDR 9,500 to IDR 14,000
Group IV: IDR 12,000 to IDR 18,500
Group V: IDR 14,000 to IDR 18,500

Open System (Japanan-Gempol)

Group I: IDR 3,000 remains IDR 3,000
Group II: IDR 4,500 to IDR 5,000
Group III: IDR 4,500 to IDR 5,000
Group IV: IDR 6,000 to IDR 6,500
Group V: IDR 6,000 to IDR 6,500
(KR/AC)