Jakarta - Cikampek II Selatan Section 3 toll road is targeted for completion in March 2022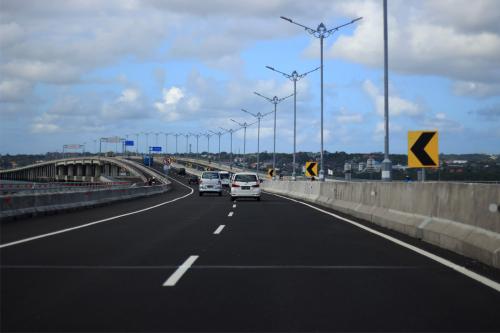 JSMR - PT. Jasa Marga (Persero) Tbk
Rp 3.420
JAKARTA - The Ministry of Public Works and Public Housing (PUPR) together with PT Jasamarga Jakarta Cikampek (Japek) Selatan is carrying out the construction of the Jakarta - Cikampek (Japek) II Selatan Toll Road that connects the Jakarta Outer Ring Road (JORR) 1, JORR 2 and Purwakarta-Bandung-Cileunyi (Purbaleunyi) toll road.
The Jakarta - Cikampek II Selatan Toll Road stretches 62 Kilometers (Km) at with total cost of IDR 8.8 trillion, divided into 3 (three) sections of development, namely: section 1 Jatiasih - Setu along 9.3 Km, section 2 Setu-Taman Mekar along 24.85 Km, and section 3 Taman-Mekar Sadang along 27.85 Km.
Sections 1 and 2 are currently in the land acquisition phase and the construction is targeted to be completed in June 2022. Meanwhile, section 3 construction progress has reached 42.58% and is targeted to be completed in March 2022.
The Japek II Selatan Toll Road will have 7 (seven) Toll Gates (GT), namely, GT Jati Asih, GT Bantar Gebang, GT Setu, GT Sukaragam, GT Taman Mekar, GT Kutanegara, and GT Sadang. (LM)