OCBC NISP allocated IDR 2.1 trillion to strengthen capitalization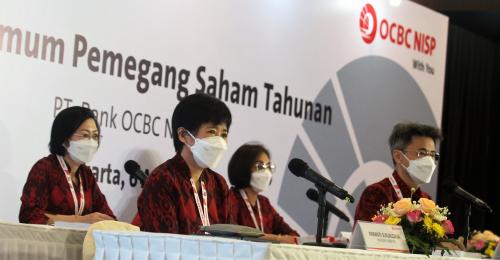 JAKARTA. The shareholders of PT Bank OCBC NISP Tbk (NISP) have agreed not to save its net profit of 2020 as a cash dividend due to the plans to strengthen its capitalization.
The decision came out after the Annual General Shareholders Meeting held on Tuesday (6/4). Based on the said meeting, the company's entire net profit in 2020 worth IDR 2.1 trillion would be utilised to support business expansion and capitalization ratio.
According to idnfinancials.com data, NISP managed to increase third-party funds by 26% year-on-year (yoy) to IDR 159 trillion. Then, 42% of the third-party funds originated from collecting cheap funds or the current account saving account (CASA).
Parwati Surjaudaja, NISP President Director, admitted that the company's performance went through a hard time in 2020 due to the weakened national economy. However, Surjaudaja continued, the company would keep making strategies to maintain its performance.
"Bank OCBC NISP always tries to fulfill its customers' needs, be it individual or corporations, by optimising the capabilities of the digital channel, which would always be improved," Surjaudaja claimed. (KR/ZH)