Production concludes, LRT Jabodetabek to operate next year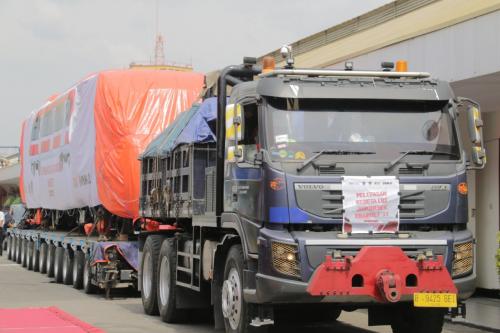 JAKARTA. The trainset manufacturing process for Light Rail Transit (LRT) Jabodetabek had been recently completed by PT INKA (Persero) after working on it for the past three months.
Budi Noviantoro, President Director of INKA, confirmed that the 31st trainset launch for LRT Jabodetabek had taken place last Thursday (14/10) in Madiun. "One trainset could carry 740 people in a normal condition or up to 1,300 people in a maximum occupancy level," he further detailed in the official announcement.
After establishing this LRT, expending IDR 3.9 trillion in total, the dynamic test in the Jabodetabek overpass facility would be initiated this month. Then, the signal communication test is set to finish by November 2021 so that it can smoothly run on August 17, 2022.
According to idnfinancials.com, INKA is a state-owned company focusing on the rail locomotive manufacturing process. This company, owning assets of IDR 7.47 trillion in total, recorded revenue of IDR 3.4 trillion and a net profit of IDR 110.17 billion in 2019. (KR/ZH)