TRIS achieves 26.7% sales growth in first quarter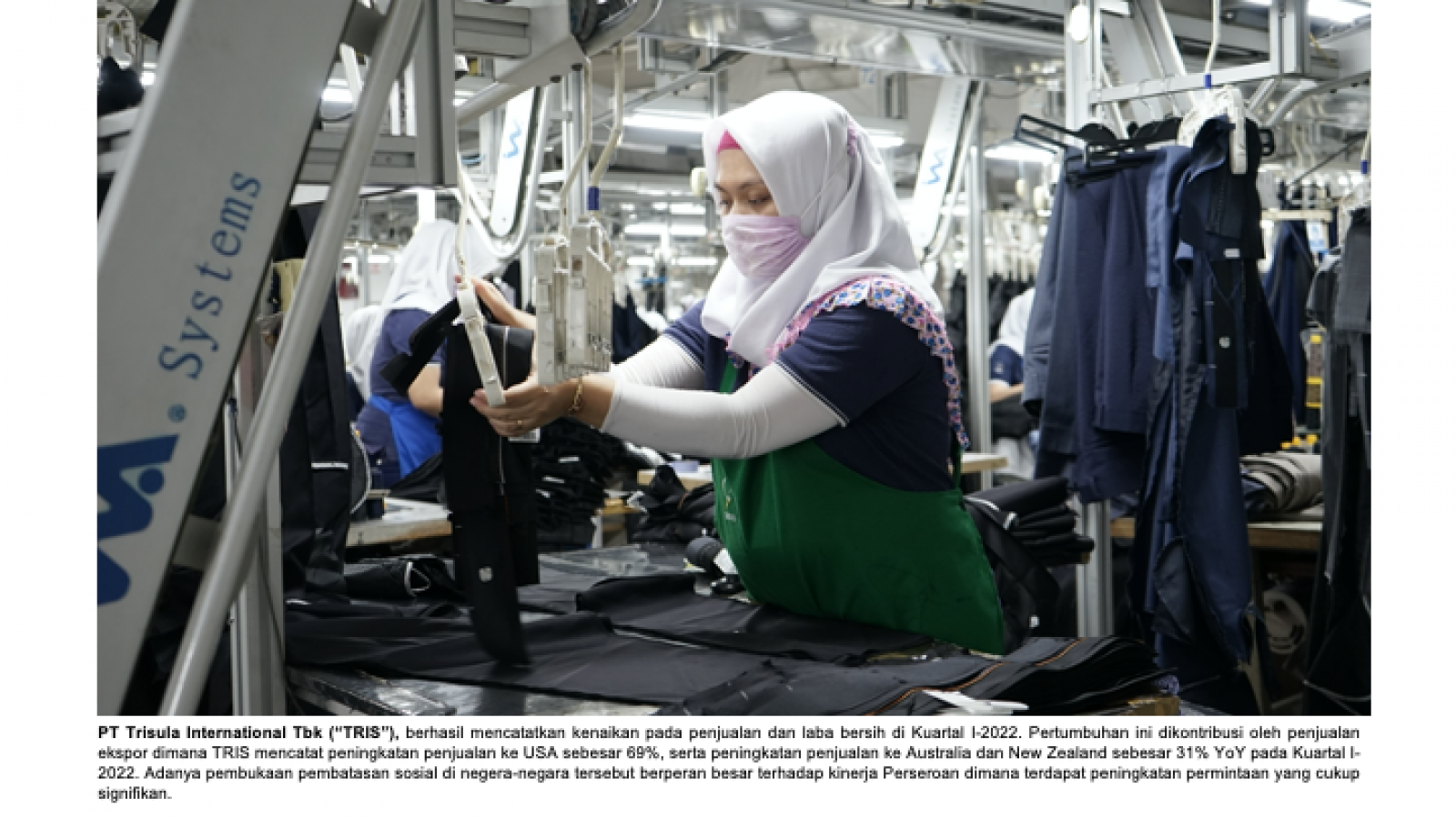 TRIS - PT. Trisula International Tbk
Rp 214
JAKARTA - PT Trisula International Tbk ("TRIS"), a publicly listed integrated apparel provider engaged in the textile and garment sectors, managed to record sales of IDR324.96 billion or an increase of 26.7% YoY in Q1- 2022. This growth was mainly contributed by export sales which increased 58.7% YoY in Q1-2022, in line with the recovery in the global economy and demand from the USA, Australia and New Zealand markets.
Widjaya Djohan as the President Director of TRIS explained, "Seeing the global market recovery, we are grateful that TRIS's performance has begun to improve and has recovered from the impact of the Covid-19 pandemic that have affecting us for the past two years. We are optimistic that with the 2022 business planning and strategy that has been set, TRIS will be able to exceed the predetermined target by H1-2022. This is evident from TRIS which also recorded a net profit of IDR16.97 billion, up 478.3% YoY in Q1-2022. Nevertheless, we must remain vigilant against inflation and uncertainty in the world economy. We are also quite affected by the increase in freight prices and delays in the logistics of raw materials due to the lockdown in China."
Export sales, which accounted for 69% of total sales, were dominated by the USA, Australia and New Zealand markets. The opening of social restrictions in these countries plays a major role in the Company's performance, where there is a significant increase in demand. TRIS recorded an increase in sales to the USA by 69%, as well as an increase in sales to Australia and New Zealand by 31% YoY in Q1-2022.
TRIS retail segment sales increased 39.7% YoY in Q1-2022 as a direct impact of the easing of social restrictions in Indonesia, where people started shopping both online and offline. Although retail segment performance started to improve, total local sales recorded a decline, this was mainly contributed by a 47.0% YoY decline in the uniform segment in Q1-2022 with delays in uniform projects in both the private and government sectors. (LM)