The controller purchases 234 million Tunas Ridean shares (TURI)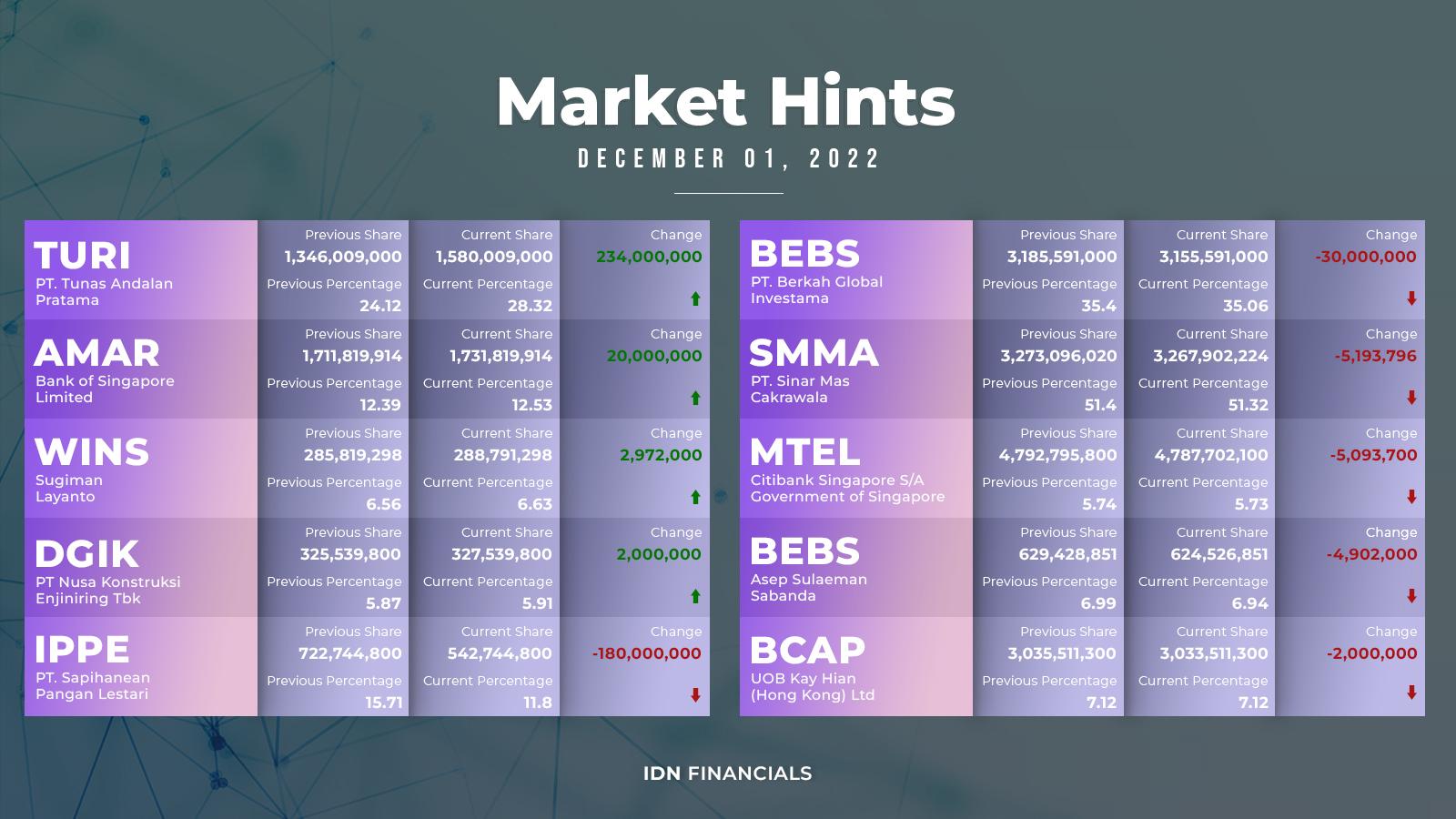 DGIK - PT. Nusa Konstruksi Enjiniring Tbk
Rp 140
JAKARTA - At the beginning of the month, on Thursday, December 1, investors did not appear to be spending much on shares, except for PT Tunas Andalan Pratama. This majority shareholder purchased 234 million shares of automotive dealer issuer PT Tunas Ridean Tbk (TURI), thus increasing the percentage of ownership by 4.2% to 28.32%. Investors also purchased other shares in smaller quantities, such as Sugiman Layanto, who bought 2.97 million shares of PT Wintermar Offshore Marine Tbk (WINS), and PT Nusa Construction Enjiniring Tbk (DGIK), which made a buyback of 2 million shares.
Surprisingly, the share transaction this time was also influenced by investors from the neighbouring countries. The Bank of Singapore repurchased 20 million shares of PT Bank Amar Indonesia (AMAR), but the Government of Singapore instead sold 5.09 million shares of PT Dayamitra Telekomunikasi Tbk (MTEL), a telecommunications infrastructure issuer. Furthermore, UOB Kay Hian (Hong Kong) sold another 2 million shares of PT MNC Kapital Indonesia Tbk (BCAP).
In addition, two investors are seen reducing their holdings in the building materials trading issuer, PT Berkah Beton Sadaya Tbk (BEBS). PT Berkah Global Investama, as the controlling shareholder, sold 30 million shares, while individual investor Asep Sulaeman Sabanda sold 4.9 million BEBS shares. PT Sapihanean Pangan Lestari, another controlling shareholder that released shares, sold 180 million shares of PT Indo Pureco Pratama Tbk (IPPE). Finally, the controller, PT Sinar Mas Cakrawala, is still selling 5.19 million shares of PT Sinar Mas Multiartha Tbk (SMMA). (KD)
Find the latest market hints only at IDN Financials!