The volume of net foreign trade dropped by 500 million once more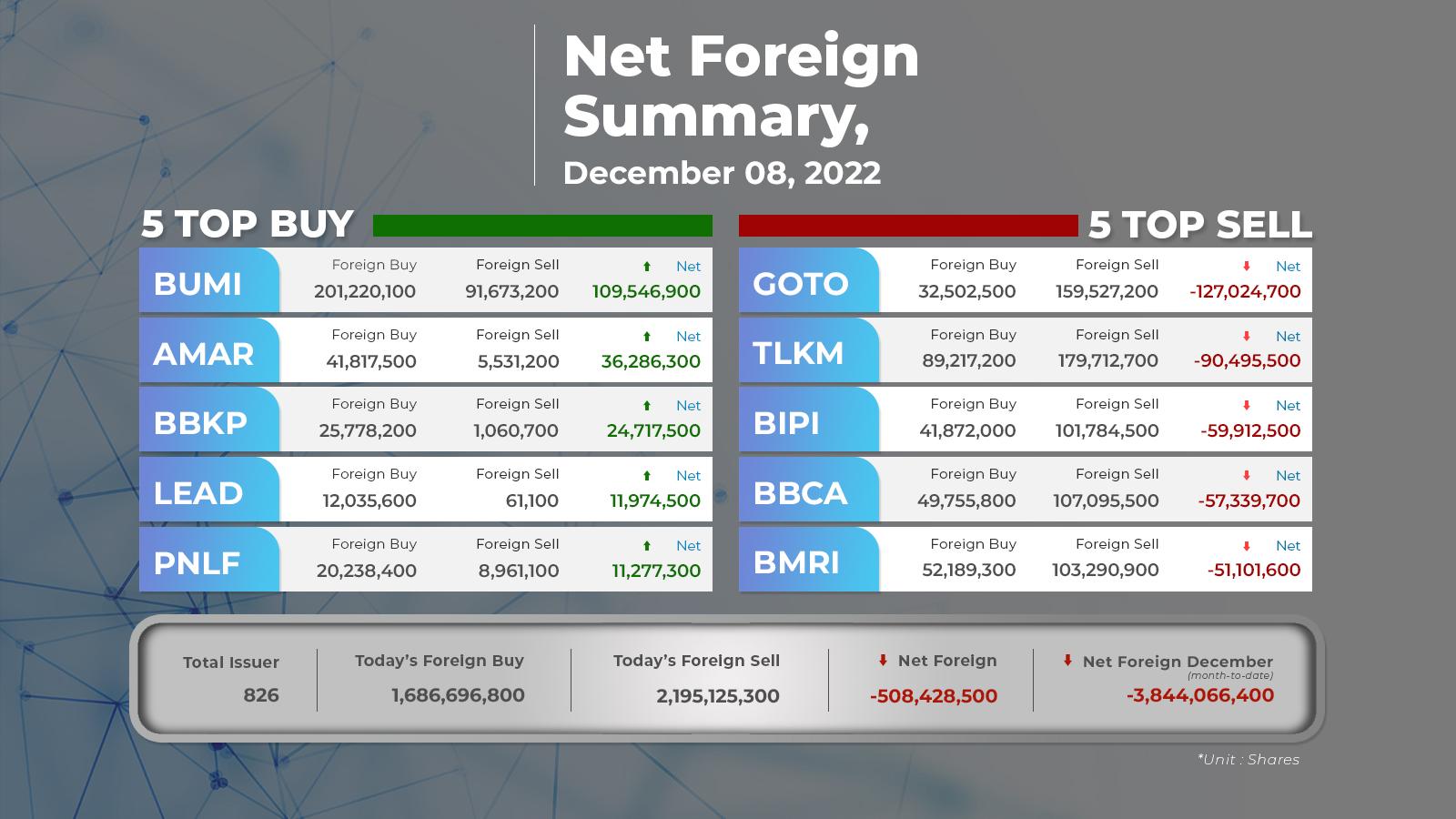 BUMI - PT. Bumi Resources Tbk
Rp 155
JAKARTA - Foreign investor trading ended on Thursday, December 8, with a deficit of 508,428,500 shares. This figure is based on the 2.19 billion shares sold by foreigners, while only 1.68 billion shares were purchased. This time, PT GoTo Gojek Tokopedia Tbk (GOTO) accounted for a quarter of the total net volume. Foreigners have sold as many as 159.52 million shares in the hot-topic company, resulting in a net volume of minus 127.02 million. Furthermore, foreign investors released 179.71 million PT Telkom Indonesia (Persero) Tbk (TLKM) shares, making the net volume minus nearly 90.5 million.
Furthermore, the three other issuers that entered the top-sell list this time were sold in large quantities, each with more than 100 million shares. First, foreigners sold 101.78 million shares of PT Astrindo Nusantara Infrastructure Tbk (BIPI), 107.09 million shares of PT Bank Central Asia Tbk (BBCA), and 103.29 million sheets of PT Bank Mandiri (Persero) Tbk (BMRI). All three companies had a net volume of fewer than 50 million shares.
Only PT Bumi Resources Tbk (BUMI) shares appeared in significant numbers on the top-buy list. Foreigners purchased a total of 201.22 million of these notoriously volatile shares, for a net volume of 109.54 million shares. The shares in second place accounted for only one-third of this figure. In the banking industry, foreign shareholders purchased 41.81 million shares of PT Bank Amar Indonesia Tbk (AMAR) and 25.77 million shares of PT Bank KB Bukopin Tbk (BBKP).
Finally, foreign investors increased their stakes in two companies: PT Logindo Samudramakmur Tbk (LEAD) and PT Panin Financial Tbk (PNLF), with 12.03 million and 20.23 million shares, respectively. Both companies reached a net volume of approximately 11 million shares. (KD)
Always update net foreign news at IDN Financials!