Fikasa Sekuritas acquired 21,875,000 shares of Bekasi Asri Pemula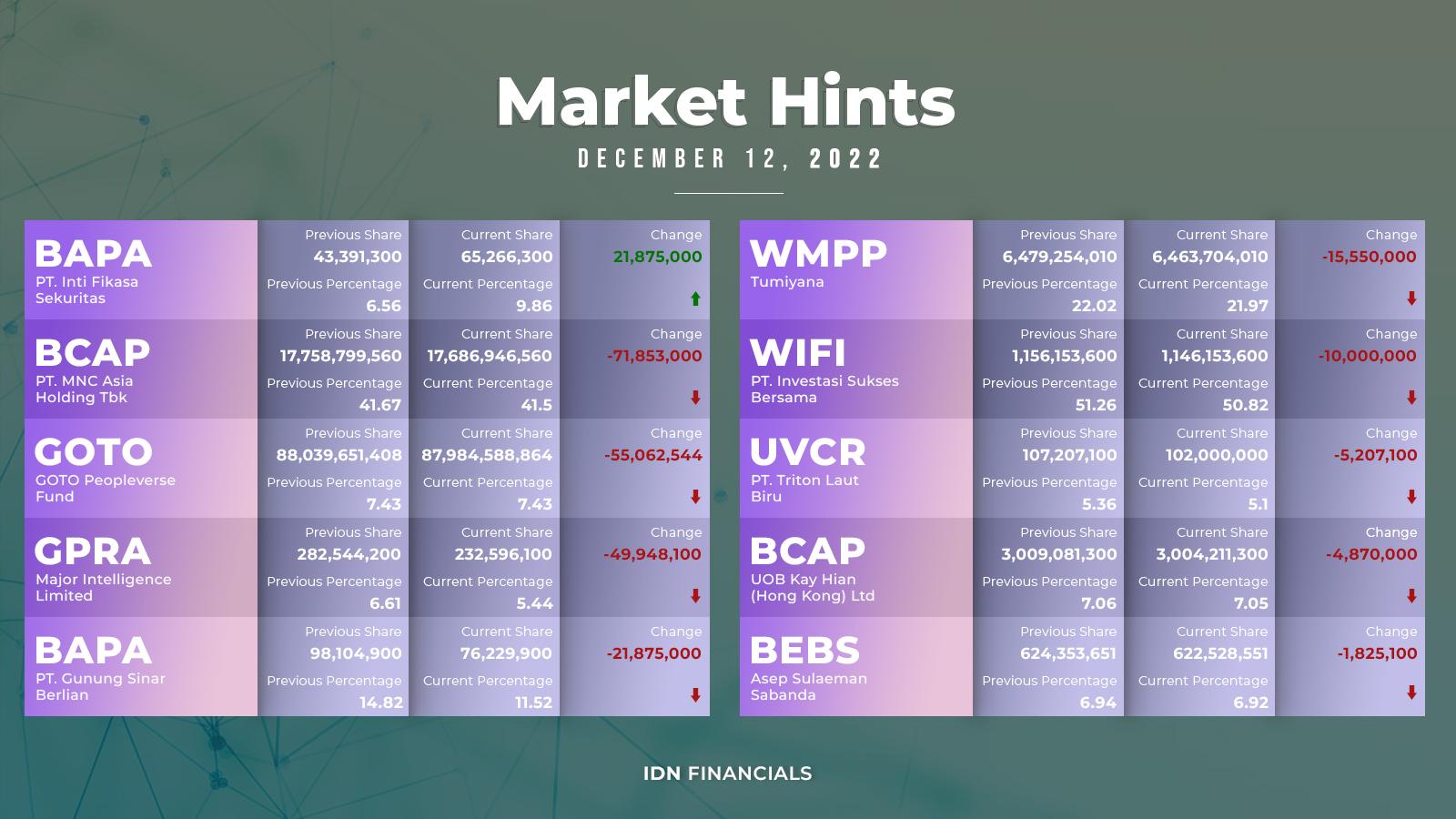 BAPA - PT. Bekasi Asri Pemula Tbk
Rp 82
JAKARTA - On Monday, December 12, PT Bekasi Asri Pemula Tbk (BAPA) shares traded hands. After being released by PT Gunung Sinar Berlian, PT Fikasa Sekuritas purchased 21,875,000 shares of this property developer. Fikasa Sekuritas increased its ownership to 9.86%, while Gunung Sinar Berlian decreased its ownership to 11.52%.

This time, the sale of shares appears to be more aggressive in terms of investor transactions. PT MNC Asia Holding Tbk sold 71.85 million shares of PT MNC Kapital Indonesia Tbk (BCAP), a financial services issuer, and then PT Investasi Sukses Bersama released 10 million shares of its subsidiary, PT Solusi Sinergi Digital Tbk (WIFI). Following that, PT Trimegah Karya Pratama Tbk (UVCR) reduced its stake in PT Triton Laut Biru by 5.2 million shares. Individual investors included Tumiyana, the company's founder and president director, who sold 15.55 million shares of PT Widodo Makmur Perkasa Tbk (WMPP), and Asep Sulaeman Sabanda, who sold 1.82 million shares of PT Berkah Beton Sadaya Tbk (BEBS).

Finally, in the foreign investor transactions, GOTO Peopleverse Fund moved 55.06 million shares of PT GoTo Gojek Tokopedia Tbk (GOTO). Major Intelligence Limited also released 49.94 million shares of PT Perdana Gapura Prima Tbk (GPRA) and 4.87 million shares of PT MNC Kapital Indonesia Tbk (BCAP) from the shareholdings of PT UOB Kay Hian (Hong Kong) Ltd. (KD)

Get market news and hints only at IDN Financials!