GOTO's foreign transaction volume reached 1.5 billion shares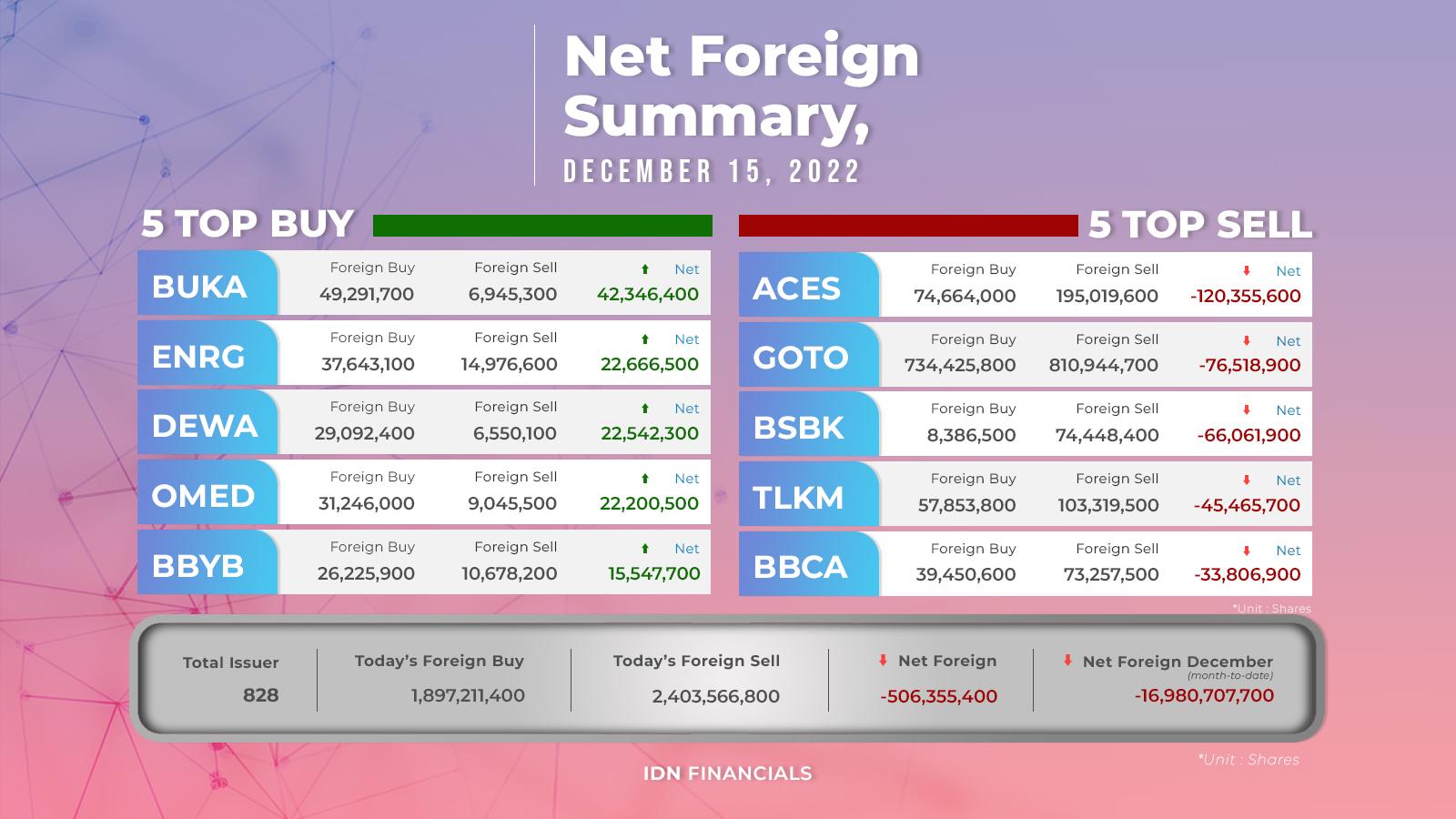 DEWA - PT. Darma Henwa Tbk
Rp 50
JAKARTA - On Thursday, December 15, the volume of PT GoTo Gojek Tokopedia Tbk shares traded by foreign investors was the highest compared to other shares. GOTO transactions totaled more than 1.5 billion shares, with 734.42 million shares purchased and 810.94 million sold, for a net volume of 76.51 million shares. In comparison, the total net foreign volume of daily foreign transactions was minus 506.35 million, with purchases and sales of 1.8 billion and 2.4 billion shares, respectively.

However, shares of PT Ace Hardware Indonesia Tbk (ACES) had the lowest net volume, with minus 120.35 million shares, as foreign investors sold 195.01 million shares of this household appliance retail issuer. Foreign investors also released 74.44 million shares of PT Wulandari Bangun Laksana Tbk (BSBK), 103.31 million shares of PT Telkom Indonesia (Persero) Tbk (TLKM), and 73.25 million shares of PT Bank Central Asia Tbk (BBCA).

The largest purchase by foreign investors, on the other hand, was only 49 million shares of PT Bukalapak.com Tbk (BUKA). With 42.34 million shares traded, the shares of the e-commerce platform provider also have the highest net volume. Foreign funds also bought 37.46 million shares of PT Energi Mega Persada Tbk (ENRG), 29.09 million shares of PT Darma Henwa Tbk (DEWA), and 31.24 million shares of PT Jayamas Medica Industri Tbk (OMED). The three issuers had comparable net volumes, around 22 million shares each. Finally, foreign investors purchased 26.22 million shares of banking issuer PT Bank Neo Commerce Tbk (BBYB), with a net volume of 15.54 million shares. (KD)

Always update net foreign news at IDN Financials!