Hormel Foods has acquired 10.7 billion shares of Garuda Food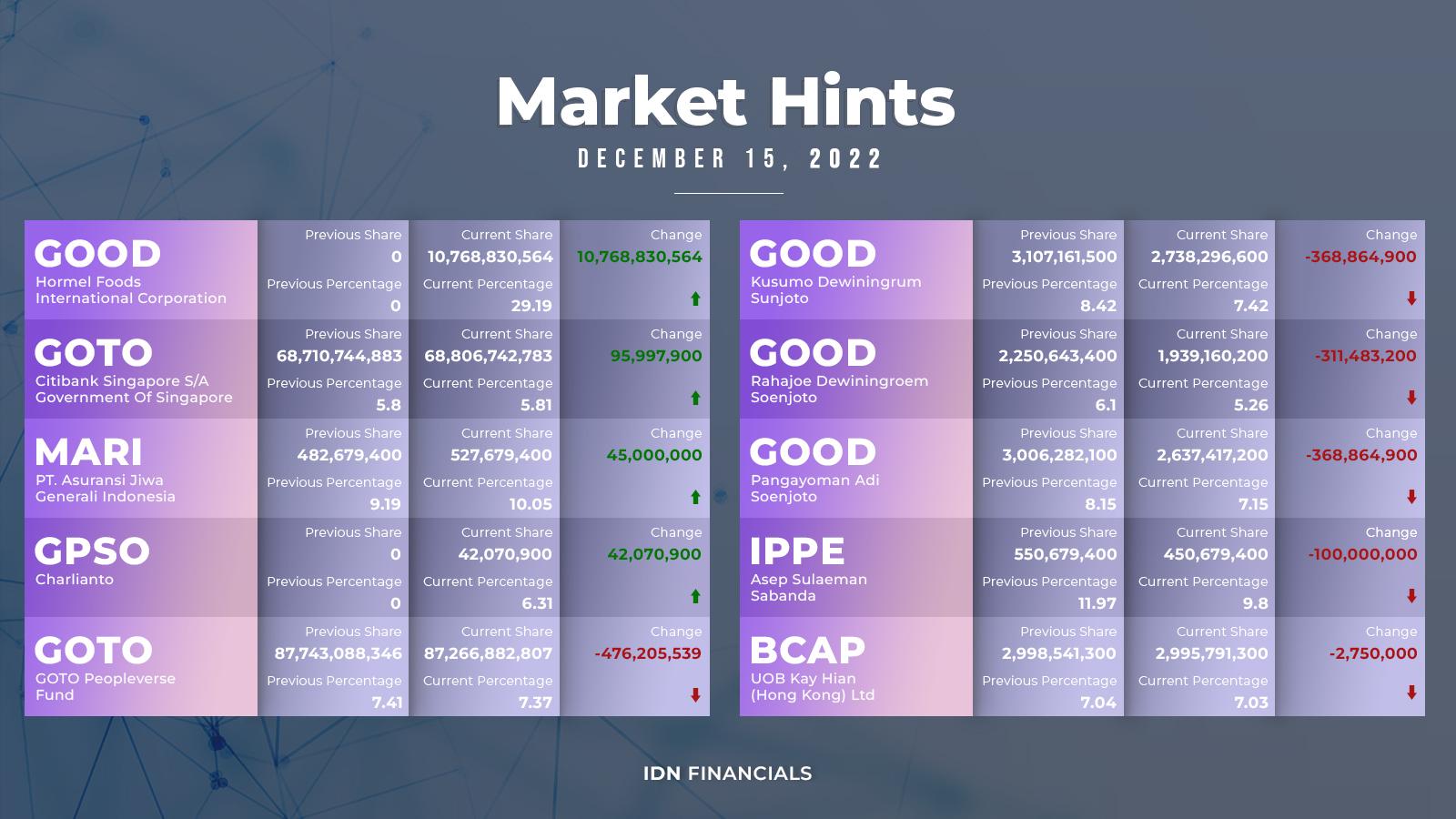 BCAP - PT. MNC Kapital Indonesia Tbk
Rp 56
JAKARTA - On Thursday, December 15, the shares of PT Garudafood Putra Putri Jaya Tbk, a food and beverage issuer, became the talk of the town. Hormel Foods International Corporation, a large US investor, became Garudafood's new investor by directly acquiring 10,768,830,564 shares of GOOD, or 29.19% ownership. The Soejoto family, who are the founders of Garuda Food, seem to be giving up their shares. There was Kusumo Dewiningrum Sunjoto, who released 368.86 million shares, then Rahajoe Dewiningrum Soenjoto with 311.48 million, and lastly, there were also 368.86 million shares released by Pangayoman Adi Soenjoto.
GOTO stock, in addition to GOOD, is once again heavily traded. The GOTO Peopleverse Fund is still transferring GOTO shares from abroad, this time up to 476.20 million shares. The Government of Singapore, on the other hand, increased its ownership by 0.01% by purchasing 95.99 million GOTO shares.
Still, on the investment side, the geographic information services provider, PT Geoprima Solusi Tbk (GPSO), has pocketed a new investor, namely Charlianto, who immediately bought up 42.07 million shares. Following that, PT Asuransi Jiwa Generali Indonesia acquired 45 million shares of PT Mahaka Radio Integra Tbk (MARI). On the other hand, Asep Sulaiman Sabanda sold 100 million shares of PT Indo Pureco Pratama Tbk (IPPE), and UOB Kay Hian (Hong Kong) also sold 2.75 million shares of PT MNC Kapital Indonesia Tbk (BCAP). (KD)
Always update market hint information only at IDN Financials!