Bank Mandiri increased its stake in Bank Syariah Indonesia by 2.7 billion shares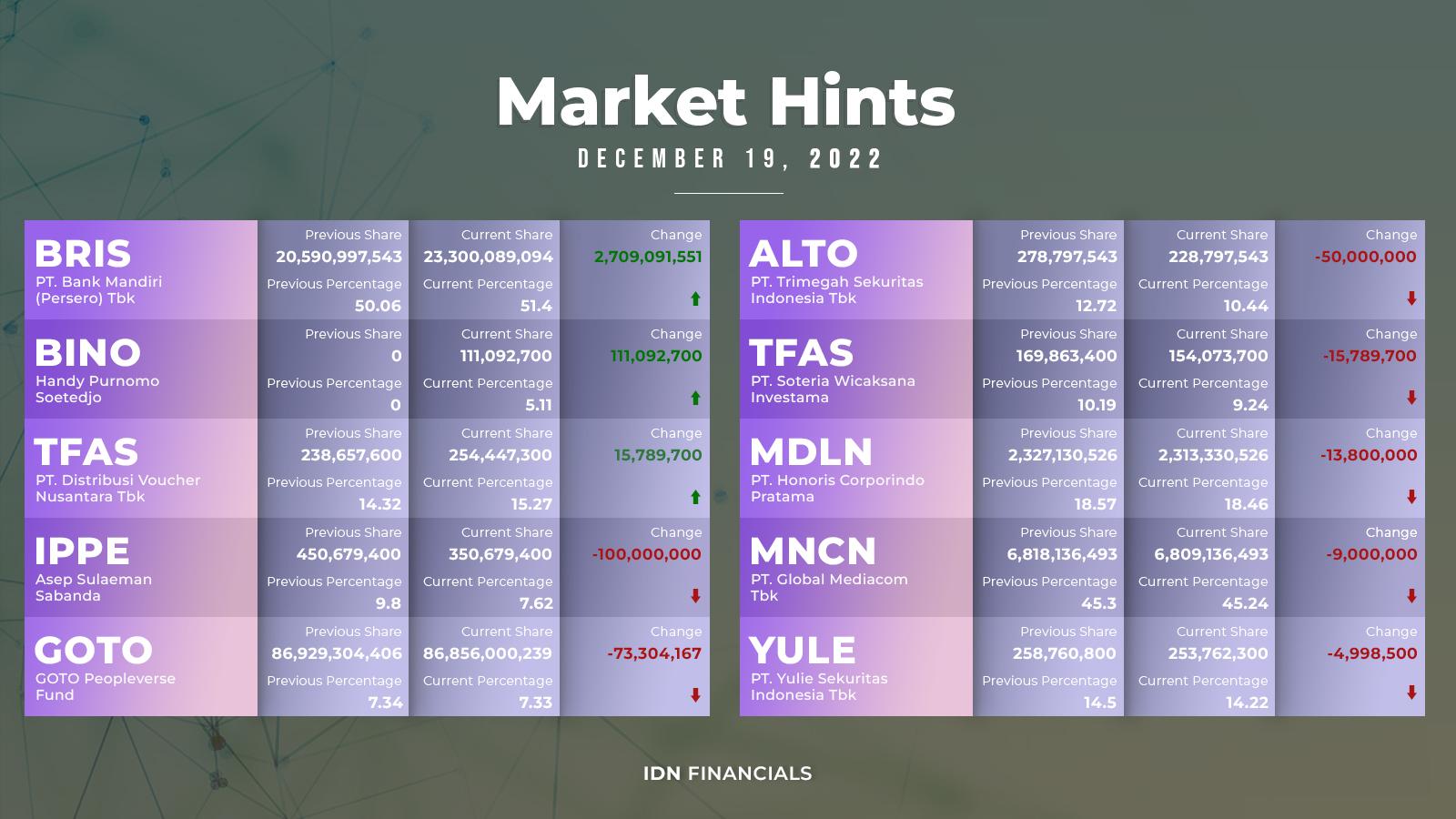 MDLN - PT. Modernland Realty Tbk
Rp 82
JAKARTA - On Monday (December 19), the third week of December began with the acquisition of 2,709,091,551 shares of PT Bank Syariah Indonesia Tbk (BRIS) by its controlling shareholder, PT Bank Mandiri (Persero) Tbk. This investment increased Bank Mandiri's stake in Indonesia's largest Sharia bank by 1.4%, to 51.4%.

This time, PT Telefast Indonesia Tbk (TFAS), a retailer of telecommunications equipment, appears to be traded frequently on the capital market. PT Distribusi Voucher Nusantara Tbk purchased 15.78 million TFAS shares, while PT Soteria Wicaksana Investama released the same amount. Following that, Handy Purnomo Soetodjo became the new shareholder in Bino Group's holding company, PT Perma Plasindo Tbk (BINO), after purchasing 111.09 million shares, or 5.11% ownership.

Asep Sulaeman Sabanda, a wealthy Subang investor, is seen releasing shares of PT Indo Pureco Pratama Tbk (IPPE), this time totaling 100 million shares. The GOTO Popleverse Fund is also selling 73.30 million shares of PT GoTo Gojek Tokopedia Tbk to continue distributing GOTO shares. PT Trimegah Sekuritas Indonesia Tbk shareholders also continued to sell 50 million shares of PT Tri Banyan Tirta Tbk (ALTO), the producer of mineral water brands Alto and Total. Furthermore, PT Honoris Corporindo Pratama sold 13.8 million shares of PT Modernland Realty Tbk (MDLN), followed by PT Global Mediacom Tbk, which sold 9 million shares of PT Media Nusantara Citra Tbk (MNCN). Lastly, PT Yulie Sekuritas Indonesia Tbk (YULE) closed the market by selling nearly 5 million shares of its own. (KD)

Keep up to date with the most recent market news and hints on IDN Financials!