BRI acquired another 1.98 billion shares of Bank Raya Indonesia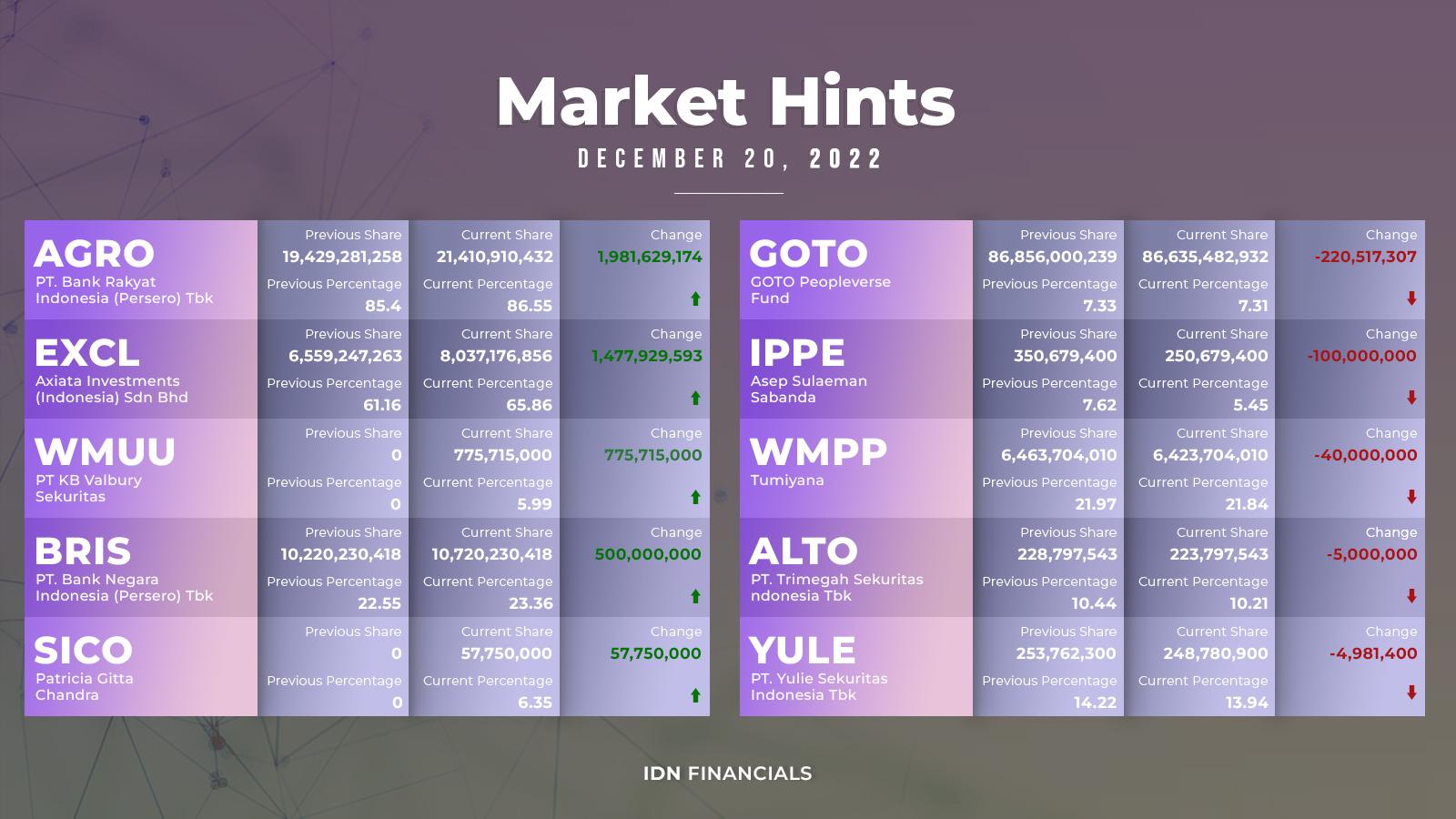 JAKARTA - On Tuesday, December 20, Bank Rakyat Indonesia acquired an additional 1,981,629,174 shares of PT Bank Raya Indonesia Tbk (AGRO). As the controller, PT Bank Rakyat Indonesia (Persero) Tbk now owns 86.5 percent of Bank Raya, its micro banking subsidiary. Axiata Investments (Indonesia) Sdn Bhd, a Malaysian company, also made a fantastic purchase of 1.47 billion shares of PT XL Axiata Tbk (EXCL), increasing the controller's holding percentage to 65.86%.

PT Widodo Makmur Unggas Tbk (WMUU) was observed to have gained a new investor after PT KB Valbury Sekuritas purchased 5.99% of its ownership (or 775.71 million shares). In addition, PT Bank Negara Indonesia (Persero) Tbk bought 500 million shares of PT Bank Syariah Indonesia Tbk (BRIS), Indonesia's largest Sharia bank.

From individual investors, Patricia Gitta Chandra purchased 57.75 million shares of PT Sigma Energy Compressindo Tbk (SICO) or SINERCO, an oil and gas compressor service issuer. In contrast, Asep Sulaeman Sabanda continued to sell 100 million shares of PT Indo Pureco Pratama Tbk (IPPE), while Tumiyana released 40 million shares of PT Widodo Makmur Perkasa Tbk (WMPP).

PT GoTo Gojek Tokopedia Tbk (GOTO) is also being released by the GOTO Peopleverse Fund in the amount of 220.51 million shares. It is followed by the sale of 5 million shares of PT Tri Banyan Tirta Tbk (ALTO) by PT Trimegah Sekuritas Indonesia Tbk. Finally, PT Yulie Sekuritas Indonesia Tbk (YULE) continues to sell YULE shares, totaling 4.98 million shares this time. (KD)

Update your market hint information only at IDN Financials!