Kingswood Union Corporation holds 5.69% of Pacific Strategic Financial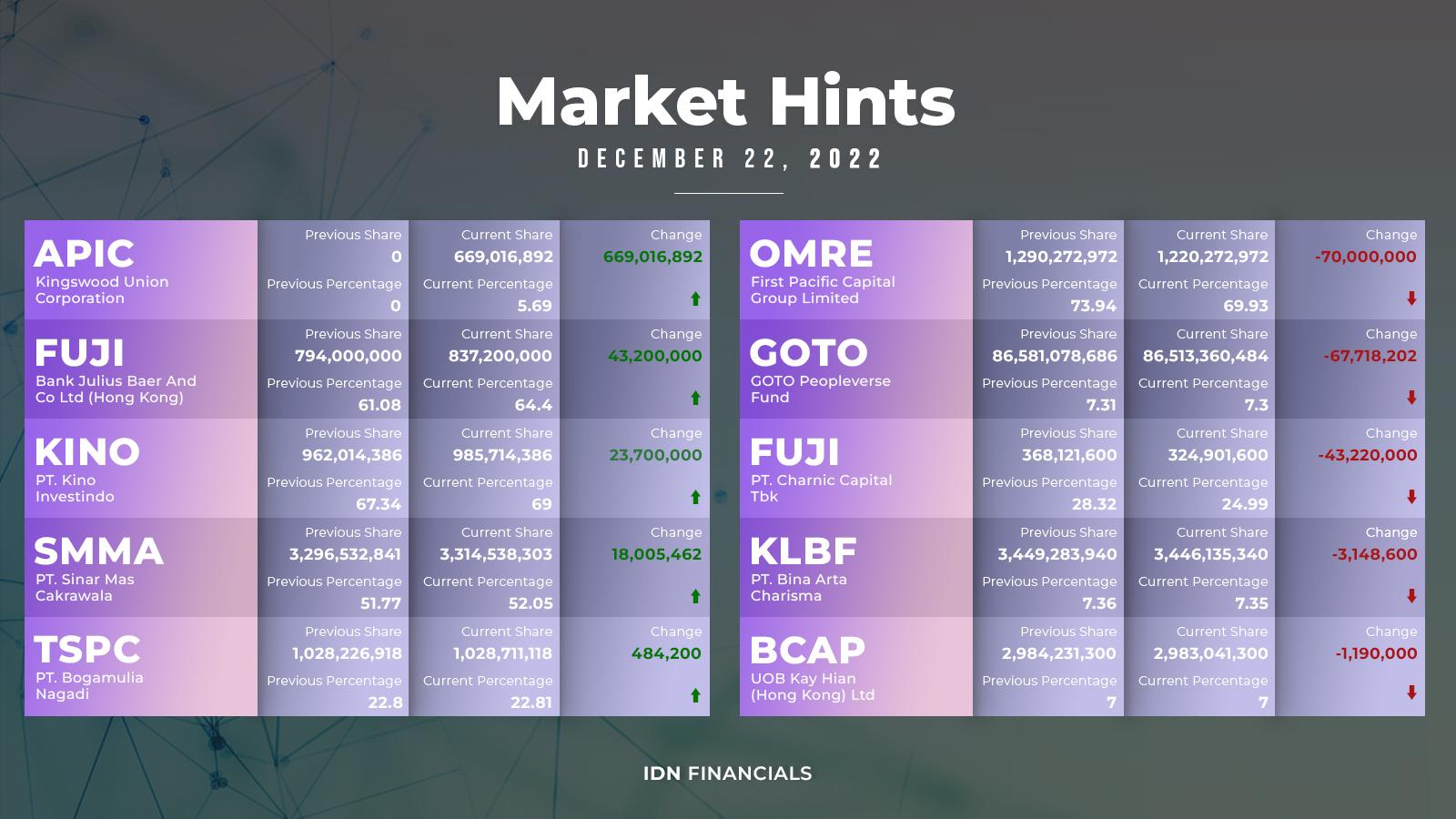 KLBF - PT. Kalbe Farma Tbk
Rp 2.170
JAKARTA - On Thursday, December 22, Kingswood Union Corporation became the new shareholder of PT Pacific Strategic Financial Tbk, a financial services issuer (APIC). This foreign investor, based in the British Virgin Islands, immediately owns 669,016,892 shares or 5.69% of the company. Then, two controlling shareholders were spotted purchasing shares in their subsidiaries. First, PT Kino Investindo acquired 23.7 million shares of PT Kino Indonesia Tbk (KINO), while PT Sinar Mas Cakrawala held 18 million shares of PT Sinar Mas Multiartha Tbk (SMMA). Following that, PT Bogamulia Nagadi purchased 484,200 shares of PT Tempo Scan Pacific Tbk (TSPC), a consumer goods company that is also a subsidiary of the Tempo Group.

Interestingly, PT Fuji Finance Indonesia Tbk's (FUJI) shares appear to be heavily traded. The controlling shareholder, Bank Julius Baer and Co Ltd (Hong Kong), increased its stake in this multi-purpose financing issuer by 43.2 million shares. However, the same number of shares were also sold by PT Charnic Capital Tbk, a Jakarta-based investment firm, so 3.3% of FUJI's ownership only changed hands between the two companies. PT Bina Arta Charisma sold 3.14 million shares of PT Kalbe Farma Tbk (KLBF) afterward.

On the foreign investment side, as the controlling shareholder of PT Indonesia Prima Property Tbk (OMRE), First Pacific Capital Group Limited sold 70 million shares. Following this, the GOTO Peopleverse Fund distributed 67.71 million shares of PT GoTo Gojek Tokopedia Tbk (GOTO), and UOB Kay Hian (Hong Kong) Ltd sold 1.19 million shares of PT MNC Kapital Indonesia Tbk (BCAP). (KD)

Get the latest market hints only at IDN Financials!