Individual investors are scooping up SLJ Global (SULI) and Menn Teknologi (MENN) shares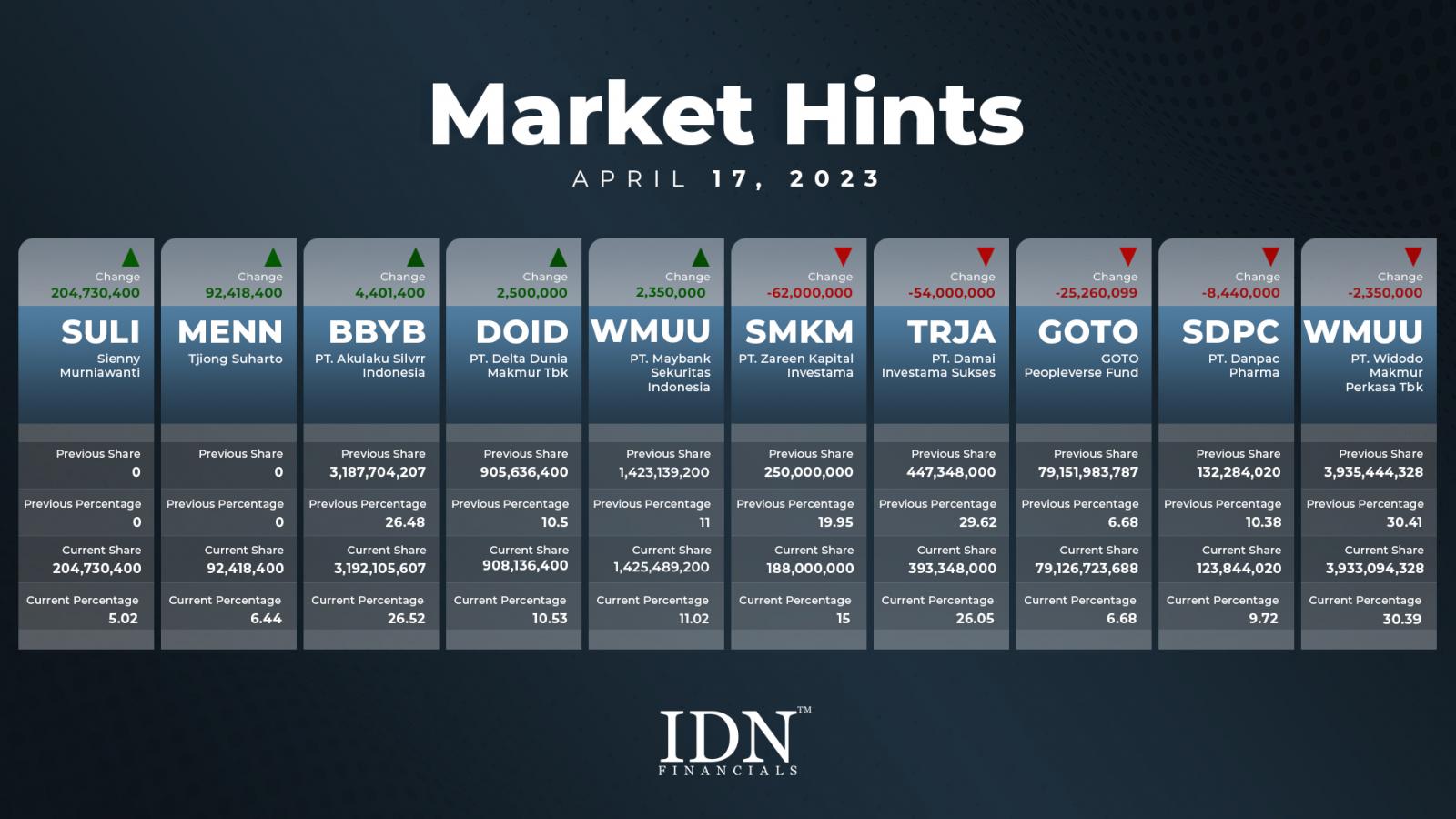 DOID - PT. Delta Dunia Makmur Tbk
Rp 494
JAKARTA - On Monday, April 17, two new individual investors acquired more than 5% stakes in two separate issuers. First, Sienny Murniawanti purchased 204,730,400 shares of PT SLJ Global Tbk (SULI), giving her a 5.02% stake. SLJ Global is a company that's involved with timber and forest products. Tjiong Suharto then became the new owner of 6.44% of the Internet of Things (IoT) service provider issuer, PT Menn Teknologi Indonesia Tbk (MENN), after purchasing 92,418,400 shares.

In addition, PT Akulaku Silvrr Indonesia purchased 4.40 million shares of PT Bank Neo Commerce Tbk (BBYB), and PT Delta Dunia Makmur Tbk (DOID) is still purchasing back 2.5 million shares. Interestingly, the share transfer occurred at the poultry farming issuer, PT Widodo Makmur Unggas Tbk (WMUU). PT Widodo Makmur Perkasa Tbk, as the holding company, passed on 2.35 million WMUU shares to PT Maybank Sekuritas Indonesia.

Some investors, on the other hand, reduce their stock holdings. PT Zareen Kapital Investama sold 62 million shares in PT Sumber Mas Konstruksi Tbk (SMKM), while PT Damai Investama Sukses let go of 54 million shares in mining vehicle leasing issuer PT Transkon Jaya Tbk (TRJA). PT Danpac Pharma then sold 8.4 million shares of pharmaceutical issuer PT Millennium Pharmacon International Tbk (SDPC). GOTO Peopleverse Fund, not to be left behind, also continued to sell 25.26 million shares of PT GoTo Gojek Tokopedia Tbk (GOTO). (KD)

Only IDNFinancials has the most up-to-date market hints!