Foreigners sold 4.5 billion shares, resulting in a net foreign loss of 1.42 billion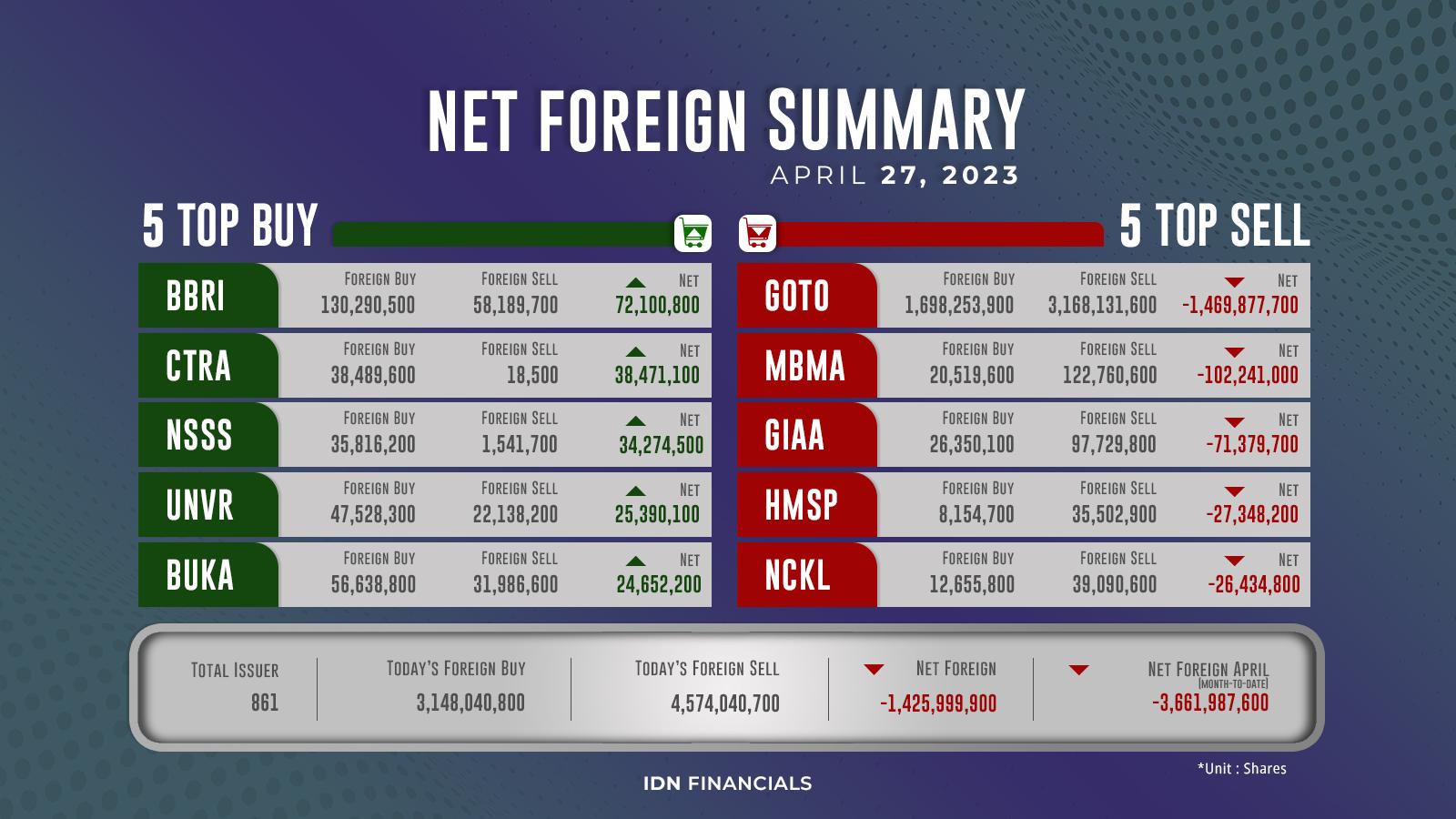 HMSP - PT. Hanjaya Mandala Sampoerna Tbk
Rp 880
JAKARTA - On Thursday, April 27, the volume of shares sold by foreign investors exceeded 4.5 billion shares, while the volume of shares purchased was only around 3.14 billion shares. As a result, the net foreign volume has fallen to -1,425,999,900 shares. Not only that, these investors sold more than 3.16 billion shares in PT GoTo Gojek Tokopedia Tbk (GOTO), bringing the company's net volume to minus -1.46 billion shares, which was even lower than the net foreign volume this time.

Although not as large as GOTO, foreign investors also sold a substantial number of shares in PT Merdeka Battery Materials (MBMA) and PT Garuda Indonesia (Persero) Tbk (GIAA). At least 122.76 million MBMA shares and 97.72 million GIAA shares were released, with a recorded net volume of -102.24 million MBMA and -71.37 million GIAA. Then, two other issuers, PT Hanjaya Mandala Sampoerna Tbk (HMSP) and PT Trimegah Bangun Persada Tbk (NCKL), recorded similar net volumes of around -27 million shares. Foreign investors sold around 35.50 million HMSP and 39.09 million NCKL, so the sales volumes of these two companies were not significantly different.

Meanwhile, PT Bank Rakyat Indonesia (Persero) Tbk (BBRI) had the highest net volume this time, with 72.10 million shares. According to reports, foreign investors purchased approximately 130.29 million BBRI shares. PT Ciputra Development Tbk (CTRA) came in second with a net volume of 38.47 million shares and nearly the same number of shares purchased, 38.48 million. Then, with a net volume of around 32.27 million shares, foreigners purchased as many as 35.81 million shares of PT Nusantara Sawit Sejahtera Tbk (NSSS). Finally, PT Unilever Indonesia Tbk (UNVR) and PT Bukalapak.com Tbk (BUKA) reported net volumes of approximately 25 million shares after foreign investors bought around 47.52 million UNVR and 56.63 million BUKA. (KD)

Get the latest market hints only at IDNFinancials!