Still in the red: net foreign is at negative 48 million shares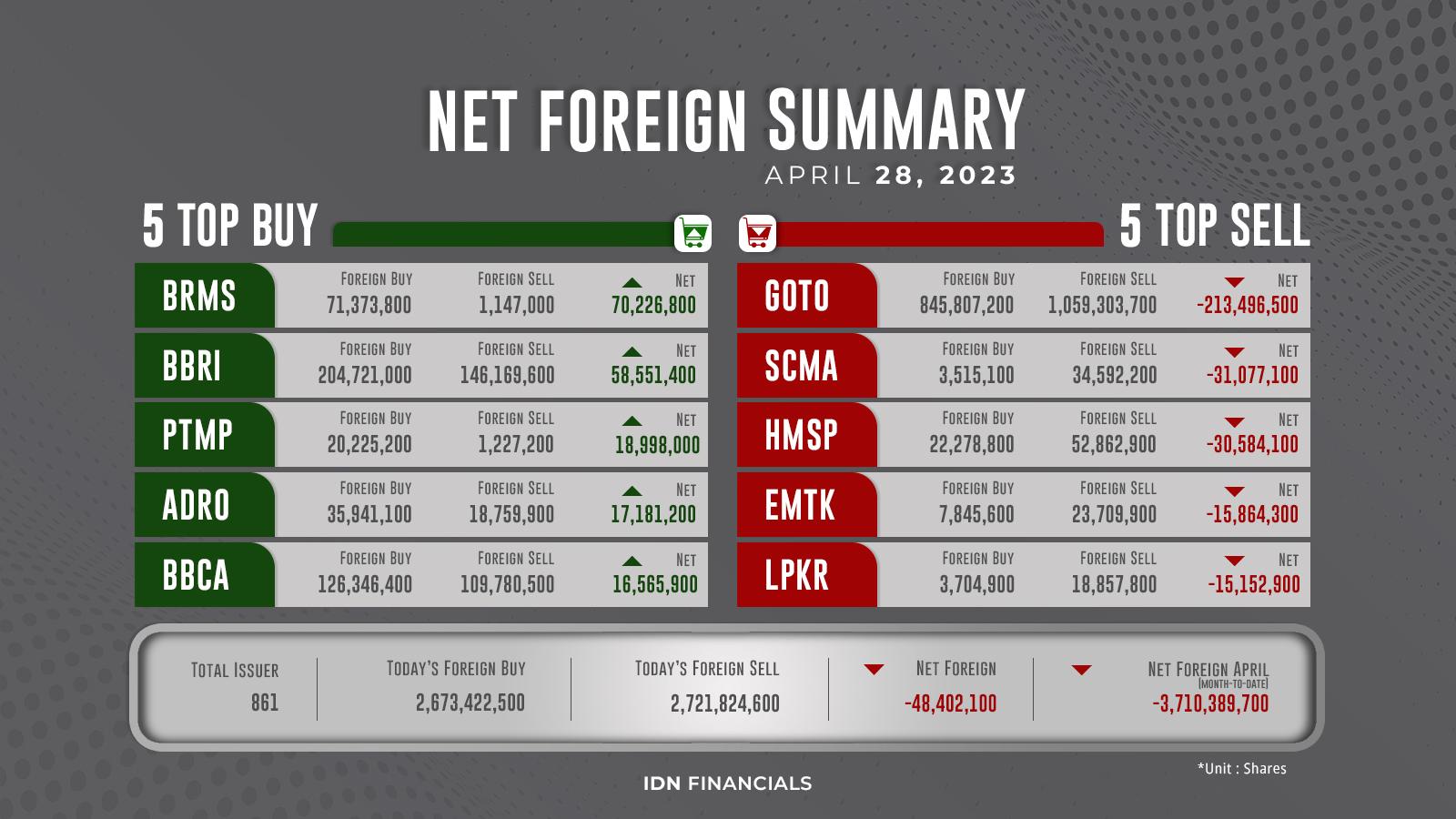 HMSP - PT. Hanjaya Mandala Sampoerna Tbk
Rp 880
JAKARTA - On Friday, April 28, the volume of foreign trade on the stock exchange leveled off. Foreign investors purchased 2.67 billion shares and sold 2.72 billion shares. Even though it was only at negative 48,402,100 shares, the net foreign volume was still in the red. PT GoTo Gojek Tokopedia Tbk (GOTO) shares returned to having the highest sales volume (1,059,303,700 shares) and the lowest net volume (-213.49 million). PT Bumi Resources Minerals Tbk (BRMS) shares, on the other hand, had the highest net volume, with 70.22 million shares, and its volume of foreign purchases was 71.37 million.

Furthermore, foreign investors sold more than 34.59 million shares of media issuer PT Surya Citra Media Tbk (SCMA), bringing the net volume to around -31.07 million shares. The net volume of tobacco issuer PT Hanjaya Mandala Sampoerna Tbk (HMSP) immediately followed with minus 30.58 million after foreigners sold as many as 52.86 million units of HMSP. PT Elang Mahkota Teknologi Tbk (EMTK) and PT Lippo Karawaci Tbk (LPKR) came after with net volumes of around -15 million shares. However, foreign investors sold slightly more EMTK shares, around 23.70 million, compared to LPKR, which only sold 18.5 million shares.

PT Bank Rakyat Indonesia (Persero) Tbk (BBRI), in contrast, had the highest volume of share purchases by foreign investors at 204.72 million. The net volume of BBRI was also relatively high, at 58.55 million shares. Following that, PT Mitra Pack Tbk (PTMP) had a net volume of nearly 19 million shares and a purchase volume of 20.22 million. Interestingly, the shares of PT Adaro Energy Indonesia (ADRO) and PT Bank Central Asia Tbk (BBCA) reported net volumes of around 17 million shares each, considering the volume of foreign spending on BBCA was much higher, at 126.34 million, whereas ADRO only reported sales around 35.94 million shares. (KD)

Keep reading for the latest net foreign news from IDNFinancials!