Deutsche Bank AG Singapore immediately claimed 9.35% ownership of Era Digital Media (AWAN) upon going public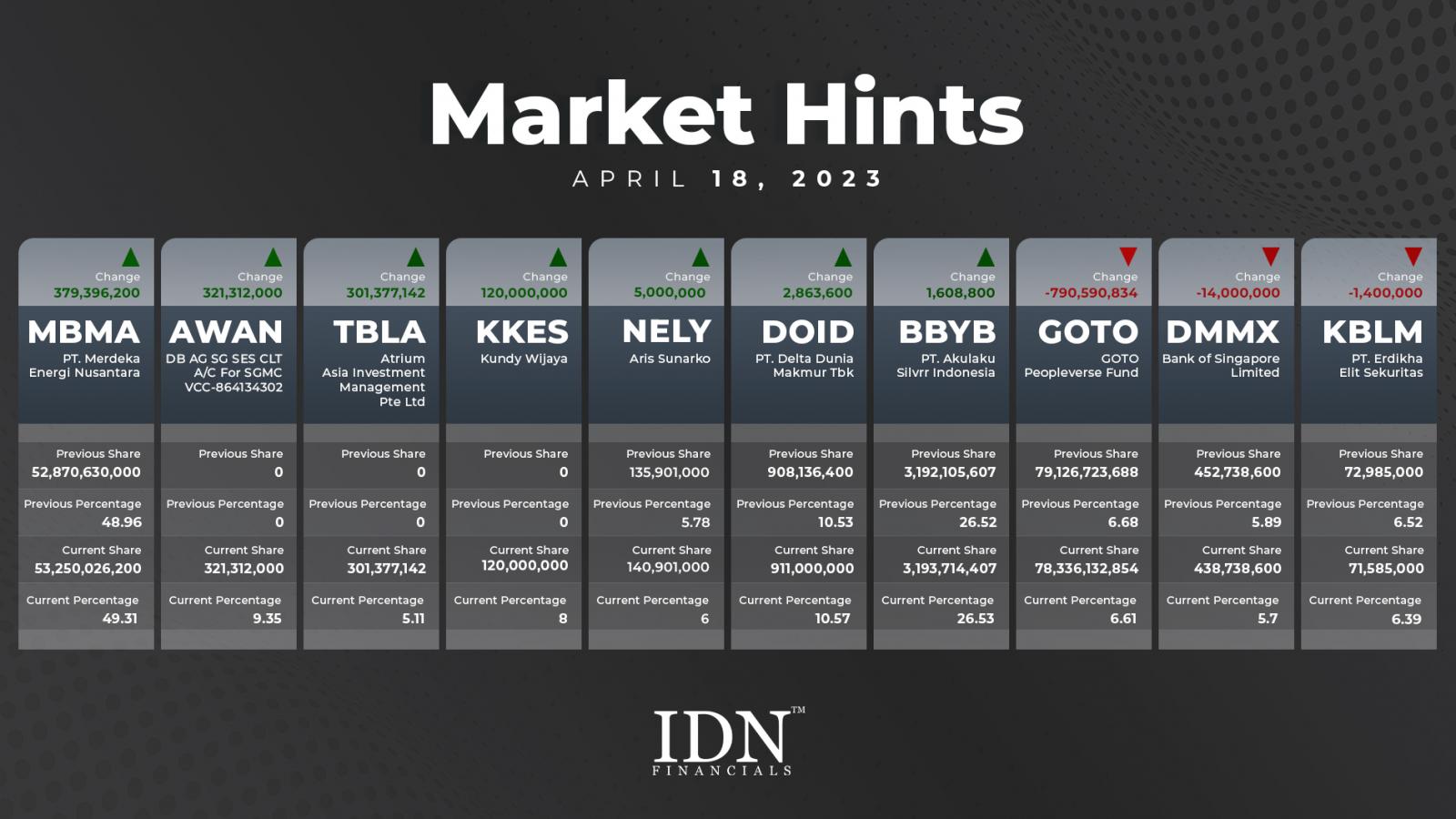 DOID - PT. Delta Dunia Makmur Tbk
Rp 494
JAKARTA - The new issuer, PT Era Digital Media Tbk (AWAN), which recently debuted on the stock exchange, drew the attention of both domestic and international investors. Deutsche Bank AG Singapore is one of them, having recently acquired 9.35% ownership of AWAN after purchasing 321,312,000 shares of the mobile content service provider issuer on Tuesday, April 18. PT Tunas Baru Lampung Tbk (TBLA), a palm oil issuer, was also welcoming a new foreign investor, Atrium Asia Investment Management Pte Ltd. This Singaporean investor purchased 301,377,142 shares of TBLA, giving them 5.11% ownership. Furthermore, individual investor Kundy Wijaya acquired an 8% stake in PT Kusuma Kemindo Sentosa Tbk (KKES) after purchasing 120 million shares of the chemical supplier issuer.

In addition, PT Merdeka Energi Nusantara invested 379.39 million more shares in its subsidiary, PT Merdeka Battery Materials Tbk (MBMA). Merdeka Energi's ownership of MBMA increased from 48.96% to 49.31% as a result of this expenditure. Individual investor Aris Sunarko then purchased an additional 5 million shares in PT Pelayaran Nelly Dwi Putri Tbk (NELY), while PT Delta Dunia Makmur Tbk (DOID) purchased back its own 2.86 million shares. Not only that, but PT Akulaku Silvrr Indonesia continues to add to its shares of PT Bank Neo Commerce Tbk (BBYB), this time as many as 1.60 million shares.

The GOTO Peopleverse Fund, on the other hand, continued to divest by releasing 790.59 million shares of PT GoTo Gojek Tokopedia Tbk (GOTO). The Bank of Singapore was also seen selling 14 million shares of digital service provider PT Digital Mediatama Maxima Tbk (DMMX), while PT Erdhika Elit Sekuritas sold 1.4 million shares of cable producer PT Kabelindo Murni Tbk (KBLM). (KD)

Only at IDNFinancials can you get the most recent market news and hints!