By selling 64.25 million shares of Fap Agri (FAPA), Prinsep Management reduces its stake to 78%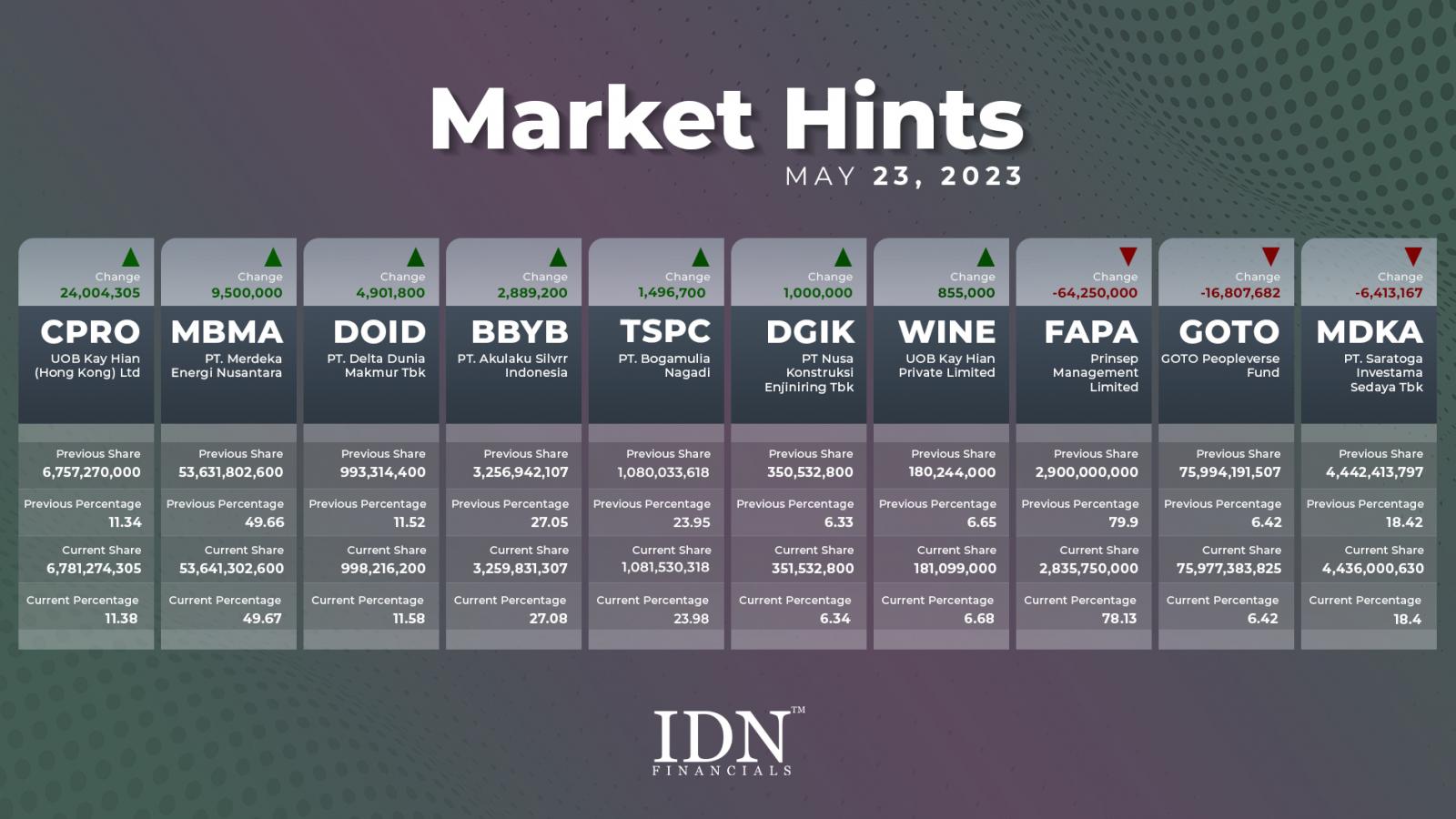 DOID - PT. Delta Dunia Makmur Tbk
Rp 494
JAKARTA - On Tuesday, May 23, Prinsep Management Limited, the company that holds the majority of the stock in PT Fap Agri Tbk (FAPA), sold 64.25 million of its shares. This foreign investor from Singapore had previously owned 79.9% of FAPA, but the sale of shares has decreased its ownership to 78.13% this time. After that, the foreign investor GOTO Peopleverse Fund reduced its stake in PT GoTo Gojek Tokopedia Tbk by releasing 16.80 million shares. PT Saratoga Investama Sedaya Tbk, an investment firm, also sold 6.41 million shares of PT Merdeka Copper Gold Tbk (MDKA), a company that engages in the mining of minerals.

UOB Kay Hian (Hong Kong) Ltd., a different foreign investor, made the decision to purchase an additional 24 million shares in the aquaculture company PT Central Proteina Prima Tbk (CPRO), while UOB Kay Hian Private Limited also increased its holdings by 855.00 shares in the wine producer PT Hatten Bali Tbk (WINE). UOB Kay Hian itself is the holding company of UOB Kay Hian (Hong Kong).

PT Delta Dunia Makmur Tbk (DOID) and PT Nusa Konstruksi Enjiniring Tbk (DGIK) appear to have added their respective stock capital once more from the domestic market, this time totaling 4.90 million DOID and 1 million DGIK shares. The controlling shareholder, PT Merdeka Energi Nusantara, also increased its investment in PT Merdeka Battery Materials Tbk (MBMA) by 9.5 million shares, and PT Akulaku Silvrr Indonesia increased its ownership of PT Bank Neo Commerce Tbk (BBYB) by 2.88 million shares. Finally, PT Bogamulia Nagadi added 1.49 million shares of PT Tempo Scan Pacific Tbk (TSPC), a pharmaceutical issuer, to its investment portfolio. (KD)

Visit IDNFinancials to read the latest net foreign news!