Tandean Rustandy released 550 million shares of Arwana Citramulia (ARNA), and Credit Suisse AG Singapore Trust moved quickly to take over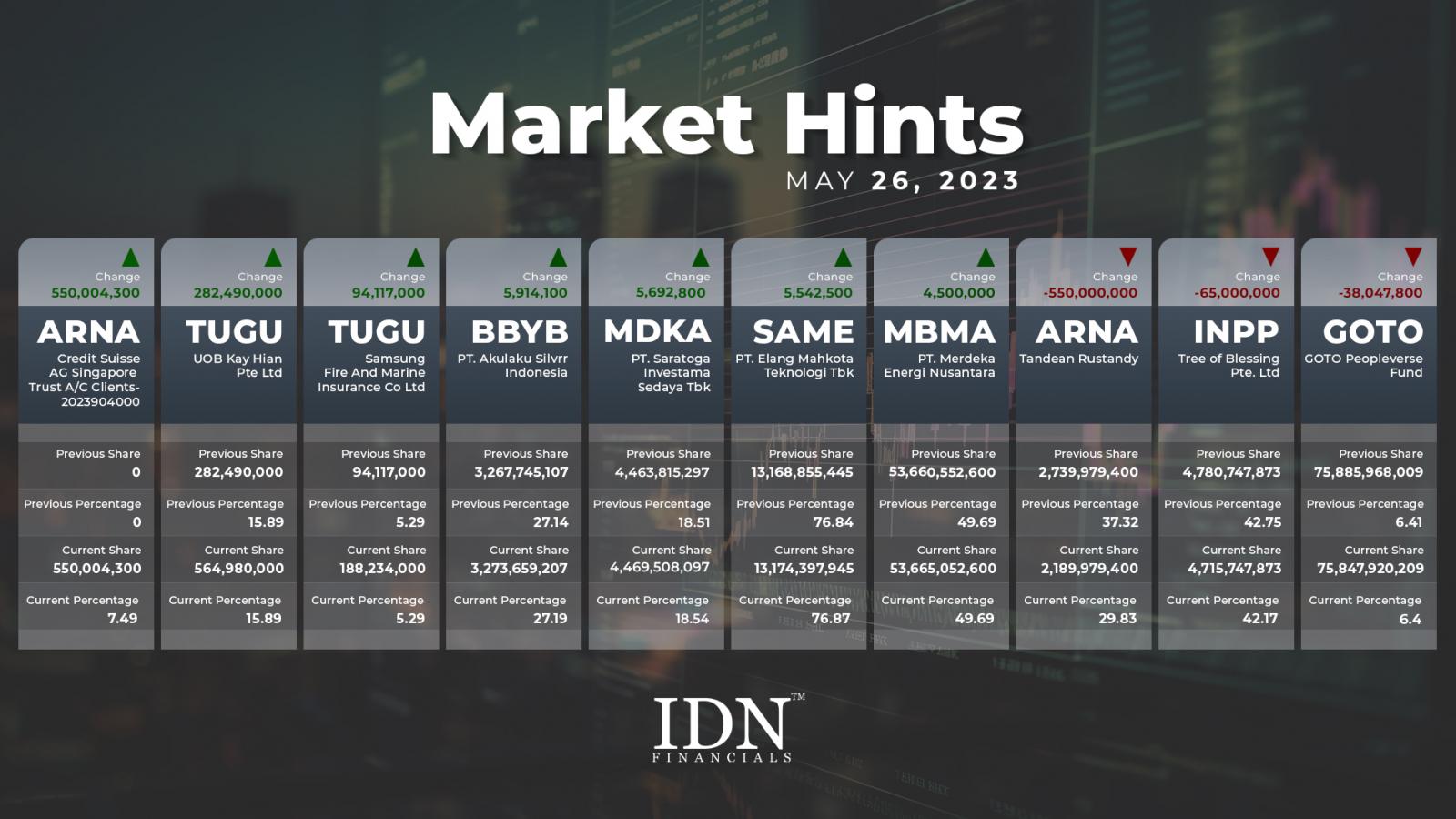 ARNA - PT. Arwana Citramulia Tbk
Rp 775
JAKARTA - On Friday, May 26, Tandean Rustandy, one of the company's majority shareholders, released up to 550 million shares of ceramic manufacturer PT Arwana Citramulia Tbk (ARNA) to Credit Suisse AG Singapore Trust. The share volume represents a 7.49% ownership stake that is now under the control of the new Singaporean investor. Tandean's ownership itself decreased from 37.32% to 29.83% after the transfer.

This time, two other foreign investors were seen increasing their holdings in the insurance company PT Asuransi Tugu Pratama Indonesia Tbk (TUGU). UOB Kay Hian Pte Ltd., a Singaporean investor, purchased 282.49 million shares, while Samsung Fire and Marine Insurance Co. Ltd., a South Korean investor, purchased 94.11 million shares.

Several domestic investors also persisted in regularly buying more shares based on the transactions in the domestic market. First, PT Saratoga Investama Sedaya Tbk acquired an additional 5.69 million shares in mineral mining issuer PT Merdeka Copper Gold Tbk (MDKA), and PT Akulaku Silvrr Indonesia acquired an additional 5.91 million shares in private bank issuer PT Bank Neo Commerce Tbk (BBYB). Additionally, PT Elang Mahkota Teknologi Tbk was aiming to acquire 5.54 million shares of PT Sarana Meditama Metropolitan Tbk (SAME), and PT Merdeka Energi Nusantara was still interested in gaining 4.5 million shares of PT Merdeka Battery Materials Tbk (MBMA).

On the other hand, Singapore-based foreign investors, Tree of Blessing Pte Ltd., sold 65 million shares of property issuer PT Indonesian Paradise Property Tbk (INPP). PT GoTo Gojek Tokopedia Tbk (GOTO) shares were also still being released by the GOTO Peopleverse Fund, this time in a total of up to 38.04 million shares. (KD)

Find the most recent net foreign news on IDNFinancials!