By purchasing 518 million shares, Maybank Sekuritas is investing in Sawit Sumbermas (SSMS)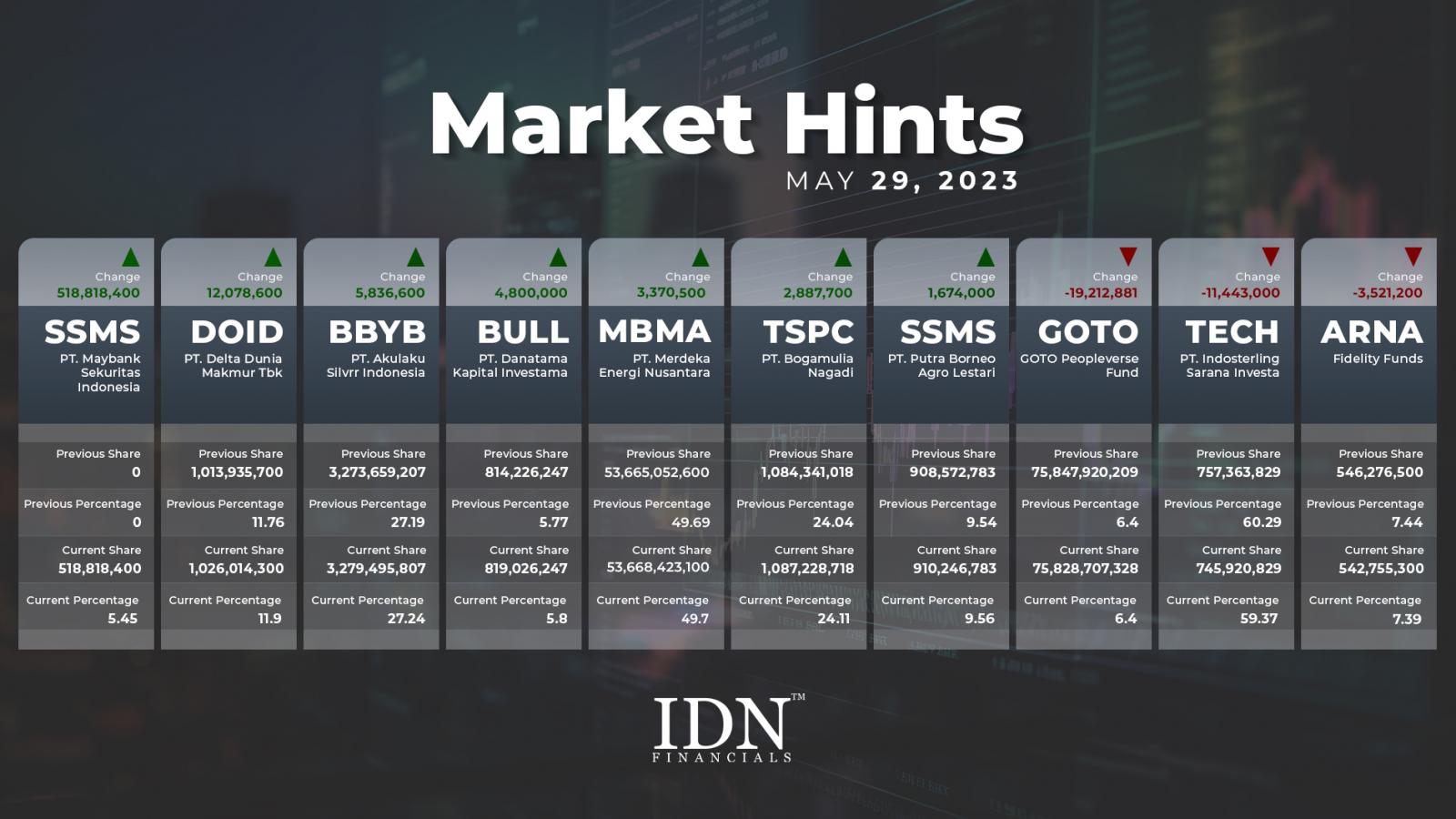 DOID - PT. Delta Dunia Makmur Tbk
Rp 444
JAKARTA - On May 29, PT Maybank Sekuritas Indonesia, a subsidiary of Malaysia's Maybank Investment Banking Group, decided to make a financial investment in PT Sawit Sumbermas Sarana Tbk (SSMS). This new investor acquired 518.81 million shares or around 5.45% of the stake in this palm oil issuer. In addition, PT Putra Borneo Agro Lestari, another shareholder in SSMS, acquired an additional 1.67 million shares, bringing its ownership of the company to 9.5%.

Additionally, PT Delta Dunia Makmur Tbk (DOID) was still buying back shares on a regular basis, this time with up to 12.07 million shares, and PT Akulaku Silvrr Indonesia has added 5.83 million shares of the private bank PT Bank Neo Commerce Tbk (BBYB) to its portfolio. Several other issuers have also decided to increase the number of shares. PT Danatama Kapital Investama reportedly bought 4.8 million shares of oil and gas tanker company PT Buana Lintas Lautan Tbk (BULL), followed by 3.37 million shares of electric vehicle battery manufacturer PT Merdeka Battery Materials Tbk (MBMA), which was claimed by PT Merdeka Energi Nusantara. Not only that, PT Bogamulia Nagadi bought 2.88 million shares of the pharmaceutical company PT Tempo Scan Pacific Tbk (TSPC).

Meanwhile, GOTO Peopleverse Fund, a foreign investor, released 19.21 million shares of PT GoTo Gojek Tokopedia Tbk (GOTO), whereas Fidelity Funds sold 3.52 million shares of the ceramic manufacturer PT Arwana Citramulia Tbk (ARNA). Last but not least, the majority shareholder, PT Indosterling Sarana Investa, sold 11.44 million shares of technology company PT IndoSterling Technomedia Tbk (TECH), reducing its stake from 60.93% to 59.37%. (KD)

The latest market hints can be found at IDNFinancials!