Fantastic! May's net foreign volume peaked at 19.5 billion shares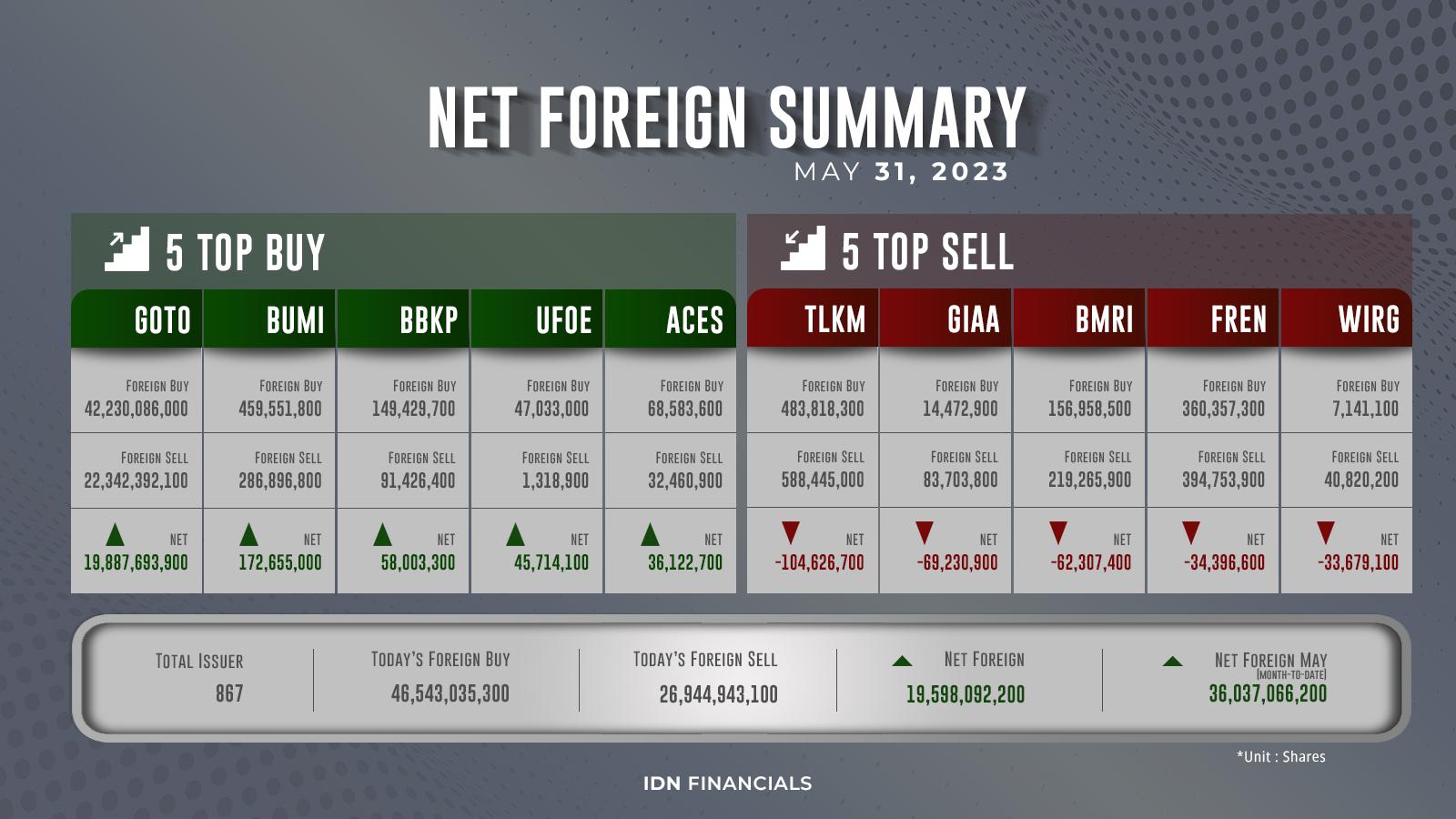 BUMI - PT. Bumi Resources Tbk
Rp 138
JAKARTA - At the end of May, the net volume of foreign trade reached an amazing total of 19,598,092,200 shares. On Wednesday, May 31, foreign investors purchased 46.54 billion shares in total, a significantly higher number than the 26.94 billion shares that were sold. This time, foreigners were seen purchasing 42.23 billion GOTO shares, resulting in a net volume of 19.88 billion shares, making GOTO shares the main contributor to the high net foreign exchange. In contrast, PT Telkom Indonesia (Persero) Tbk (TLKM) recorded the lowest net volume, at -104.62 million shares, with a volume of 588.44 million shares from foreign sales.

The net volume of PT Bumi Resources Tbk (BUMI) is in second place with 172.65 million shares, although it is not as high as GOTO. BUMI shares were purchased by foreign investors themselves for a total of 459.55 million shares. Foreigners then bought 149.42 million shares of PT Bank KB Bukopin Tbk (BBKP), resulting in a net volume of 58 million. Additionally, after foreign investors purchased 47.03 million shares of the electronic retail issuer, PT Damai Sejahtera Abadi Tbk (UFOE) reported a net volume of 45.71 million. Home appliance issuer PT Ace Hardware Indonesia Tbk (ACES), which was bought by foreigners for as many as 68.58 million units and had a net volume of roughly 36.12, then closed the top buy list.

In contrast, with a net volume of -69.23 million shares and a sales volume of 83.70 million, the aviation state-owned company PT Garuda Indonesia (Persero) Tbk (GIAA) sat in second place in the top-sell line. Foreigners also sold quite a lot of shares of the national bank, PT Bank Mandiri (Persero) Tbk (BMRI), reaching 219.26 million shares and a net volume of roughly -62.30 million shares. Finally, even though telecommunications issuer PT Smartfren Telecom Tbk (FREN)'s sales volume (394.75 million shares) was significantly higher than technology issuer PT Wir Asia Tbk (WIRG)'s (40.82 million), both WIRG and FREN reported net volumes of approximately -34 million shares. (KD)

Visit IDNFinancials to find out the most recent net foreign news!