Insights
Telkom and 13 Other Companies Changed Names in 2020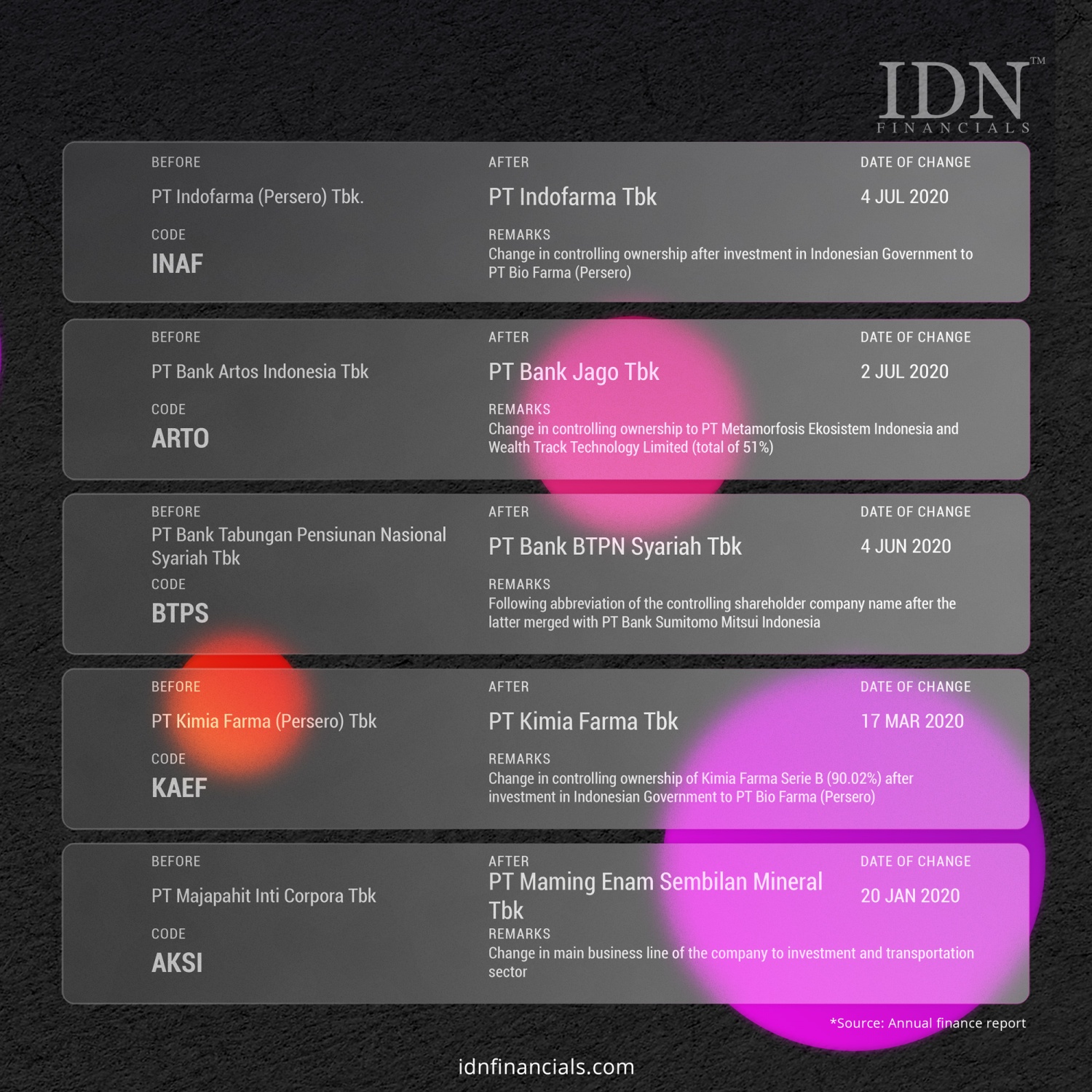 PT Telkom Indonesia was just the latest company that changed its name after the other 13 companies did the same thing in 2020. Many companies find it necessary to change their names to reposition their brands, to avoid confusion with companies with similar names, to align with the company's new industry, and many other reasons.
PT Telkom Indonesia was previously PT Telekomunikasi Indonesia, decided to abbreviate its longer name to a shorter name which is more popular to the customers. This state-owned telecommunication company announced the name change on 4th December 2020. However, they kept the code TLKM in the stock market.
If Telkom was the last company to change its name in 2020, PT Maming Enam Sembilan Mineral (AKSI) was the first one as they did it on 20th January 2020. Previously known as PT Majapahit Inti Corpora Tbk, this company changed its name because it also changed the main business line of the company to the investment and transportation sector.
Another state-owned company that changed its name was PT Kimia Farma (Persero) Tbk to PT Kimia Farma Tbk (KAEF) on 17th March 2020 because there was a transfer of ownership of Kimia Farma Series B shares or 90.02% from the Indonesian Government to PT Bio Farma (Persero). PT Indofarma(Persero) Tbk changed its name to PT Indofarma (INAF) for the same reason as Kimia Farma.
From the banking and financial industry, PT Bank BTPN Syariah Tbk (BTPS) or previously known as PT Bank Tabungan Pensiunan Nasional Syariah Tbk changed its name following the abbreviation of the controlling shareholder company after a merger with PT Bank Sumitomo Mitsui Indonesia (SMBCI). Another change came from PT Bank Artos Indonesia Tbk to PT Bank Jago Tbk, also because there's a change of controlling shareholder from PT Metamorfosis Ekosistem Indonesia dan Wealth Track Technology WTT (Limited) at 51%. Meanwhile, PT Bank Yudha Bhakti Tbk changed its name into PT Bank Neo Commerce Tbk (BBYB) as they transformed into a digital bank.
Even though companies change their names for various reasons, four companies didn't have any particular reasons for changing their names. These companies are PT Surya Permata Andalan Tbk (NATO), PT Agung Semesta Sejahtera Tbk (TARA), PT Andalan Perkasa Abadi Tbk (NASA), and PT Sreeya Sewu Indonesia Tbk (SIPD). (KD)