FKS Multi Agro's net profit grew 22.27% yoy as of September 2020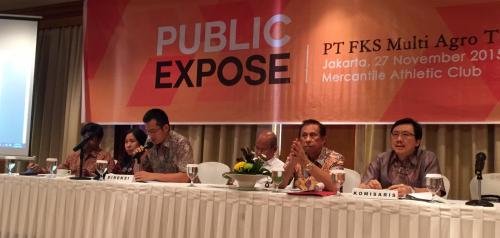 FISH - PT. FKS Multi Agro Tbk
Rp 3.390
JAKARTA. PT FKS Multi Agro Tbk (FISH), an exporter and importer of fishery products, announced a net profit growth of 22.27% year-on-year (yoy) or US$ 11.28 million during January-September (9M) 2020.
FISH management said that the net profit was supported by revenue performance, which reached US$ 690.23 million during 9M 2020. Compared to the same period last year, the company's revenue grew 7.51% yoy.
In the recently released financial report, FISH management conveyed that most of its revenue came from the trading and distribution business lines. This business line contributed US$ 676.7 million to the company's total revenue. Meanwhile, other business lines, namely logistics, only contributed US$ 10.22 million and manufacturing contributed US$ 3.31 million.
Apart from boosting revenue performance, FISH has also lowered its selling expenses by 7.06% to US $ 6.51 million. Then, the company's operating expenses during 9M 2020 were reduced by 30.27% to US$ 1.86 million.
According to idnfinancials.com data, currently 79.06% of FISH shares are owned by PT FKS Corporindo Indonesia. As much as 10.42% owned by PT Caturkartika Perdana, and the remaining 10.52% is owned by public investors, with each ownership below 5%. (KR/VA)