Standard Chartered announces strategic partnership with Bukalapak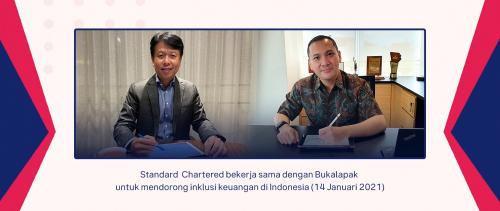 JAKARTA - Standard Chartered announced a strategic partnership with Bukalapak to launch an innovation aimed at advancing digital banking. Supported by Nexus, the banking-as-a-service solutions from SC Ventures, Bukalapak and Standard Chartered are determined to expand their mission of realizing easy access to financial services for consumers across the country.
The collaboration between Standard Chartered and Bukalapak will focus on the following areas:
● Bringing innovation in financial services and e-commerce: Standard Chartered and Bukalapak will offer a variety of innovative financial services through the Bukalapak ecosystem.
● Encouraging financial inclusion in Indonesia: With Bukalapak's extensive reach up to 100 million users and 13.5 million MSME players, this collaboration will promote financial inclusion and support the growth of Indonesia's digital economy.
Andrew Chia, Cluster CEO, Indonesia & ASEAN Markets (Australia, Brunei & the Philippines), Standard Chartered, said, "Our inaugural partnership with Bukalapak reaffirms Standard Chartered's commitment to growing our footprint locally. We are confident that our partnership with one of Indonesia's first unicorns and leading e-commerce players will enable us to create solutions together that encourage financial inclusion in Indonesia."
This collaboration is expected to lead innovations in the digital ecosystem in the financial sector, as a solution to shifting consumer behavior during pandemic. A survey conducted by Standard Chartered recently revealed that the pandemic is acting as a catalyst for growth in online financial activity, with more than half of global respondents using more post-pandemic online services. 56 percent of Indonesian consumers now prefer online purchases and payments, an increase of 16 percent compared to before COVID. (LM)