Bumi Resources Minerals seeks IDR 1.66 trillion via rights issue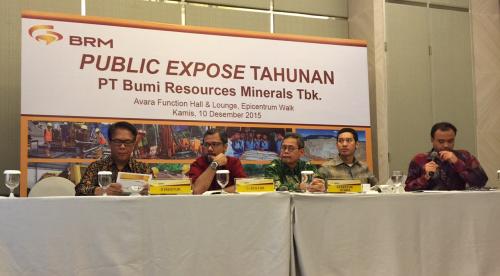 BRMS - PT. Bumi Resources Minerals Tbk
Rp 252
JAKARTA. PT Bumi Resources Tbk (BRMS) plans to issue 23.67 billion new shares by giving preemptive rights, or a rights issue, to raise funds of a maximum of IDR 1.66 trillion.
These new shares to be offered in this rights issue are Series B shares carrying a face value of IDR 50 each. Then, the execution price would be set to IDR 70 each. For every five shares, the holders who are included in the Shareholders List would earn the right to acquire one new share.
Muhammad Sulthon, Director and Corporate Secretary of BRMS, reveals that there have not been any old shareholders stepping in to be the standby buyer in this rights issue, including its ultimate shareholder, PT Bumi Resources Tbk (BUMI).
"The old shareholders who do not exercise their rights would have their ownership percentage diluted by a maximum of 16.67%," Sulthon explains further in a prospectus released last week.
For the records, BRMS would direct 97% of the raised funds from the rights issue to the business expansion currently managed by its subsidiary, PT Gorontalo Minerals. Meanwhile, the remaining 3% would be spent on solidifying the company's working capital. (KR/ZH)