Net foreign is positive at the start of the new month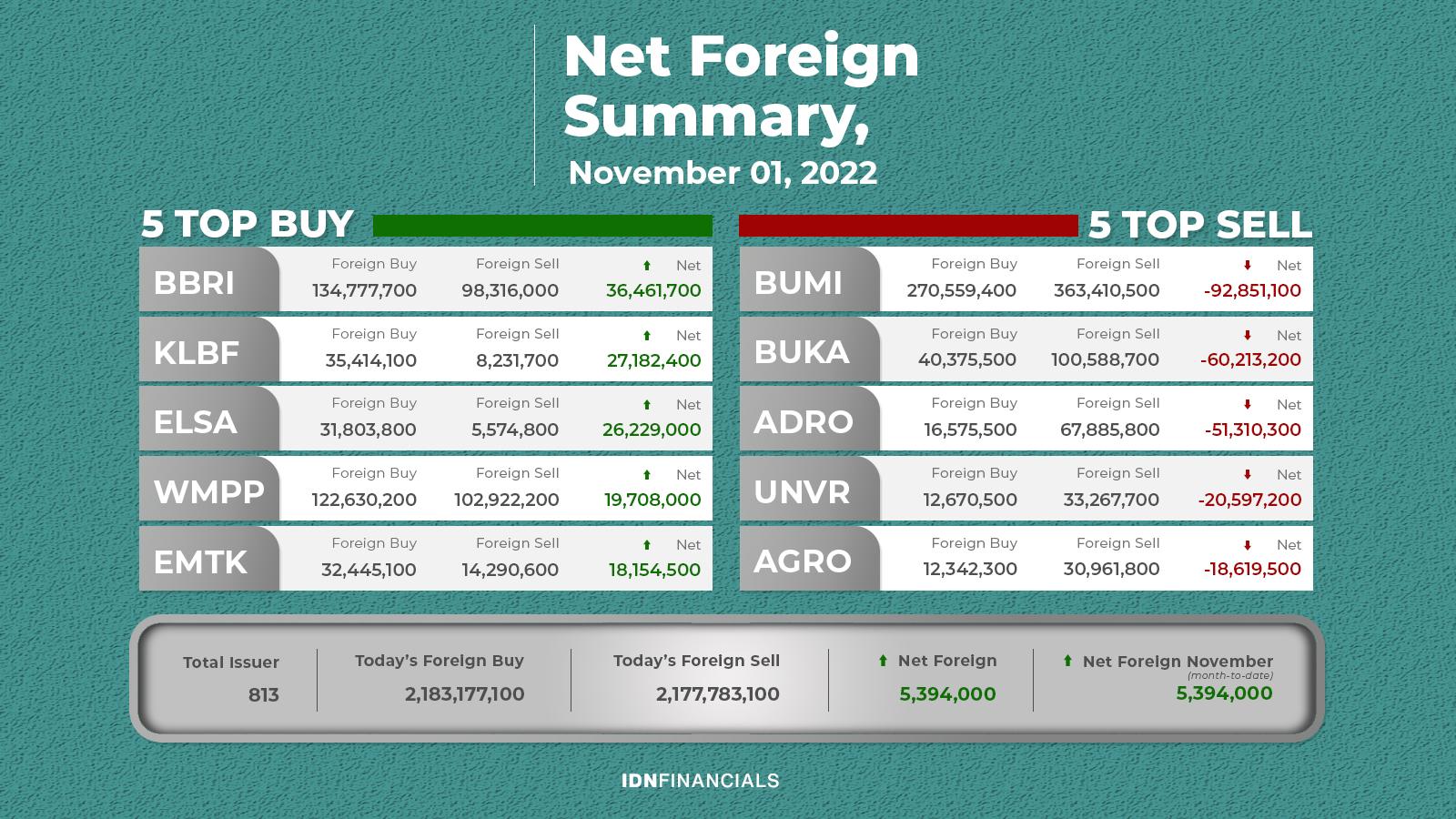 BUMI - PT. Bumi Resources Tbk
Rp 137
JAKARTA - Foreign trading in November starts on an optimistic note toward the Indonesian stock market. With a volume of 2.1 billion shares, both for foreign purchases and sales, the net total on Tuesday (1/11) was positive at 5 million shares.
BBRI, from the largest national bank issuer, PT Bank Rakyat Indonesia (Persero) Tbk, became the biggest foreign purchase today, with a total of 134 million shares. This figure was followed by 122 million shares of PT Widodo Makmur Perkasa Tbk (WMPP), a holding company for agricultural commodities, which were bought with foreign money. Moreover, PT Kalbe Farma Tbk (KLBF), PT Elnusa Tbk (ELSA), and PT Elang Mahkota Teknologi Tbk (EMTK) reported foreign buys in the range of 31-35 million shares.
Of the top-selling list, PT Bumi Resources Tbk stands at the top with 363 million shares sold by its foreign investors. Although 270 million of BUMI's shares were also sold, the company's foreign net sales volume was down, at negative 92 million. Furthermore, more than 100 million shares of PT Bukalapak.com Tbk (BUKA) were also sold by foreigners, while 67 million shares of PT Adaro Energy Indonesia Tbk (ADRO) experienced the same. Finally, the net volume of foreign trading for FMCG issuer PT Unilever Indonesia Tbk (UNVR) and banking issuer PT Bank Raya Indonesia Tbk (AGRO) went down to negative 20 million shares. (KD)
Access the most recent Net Foreign news only on IDN Financials!