December foreign net opened at minus 300 million shares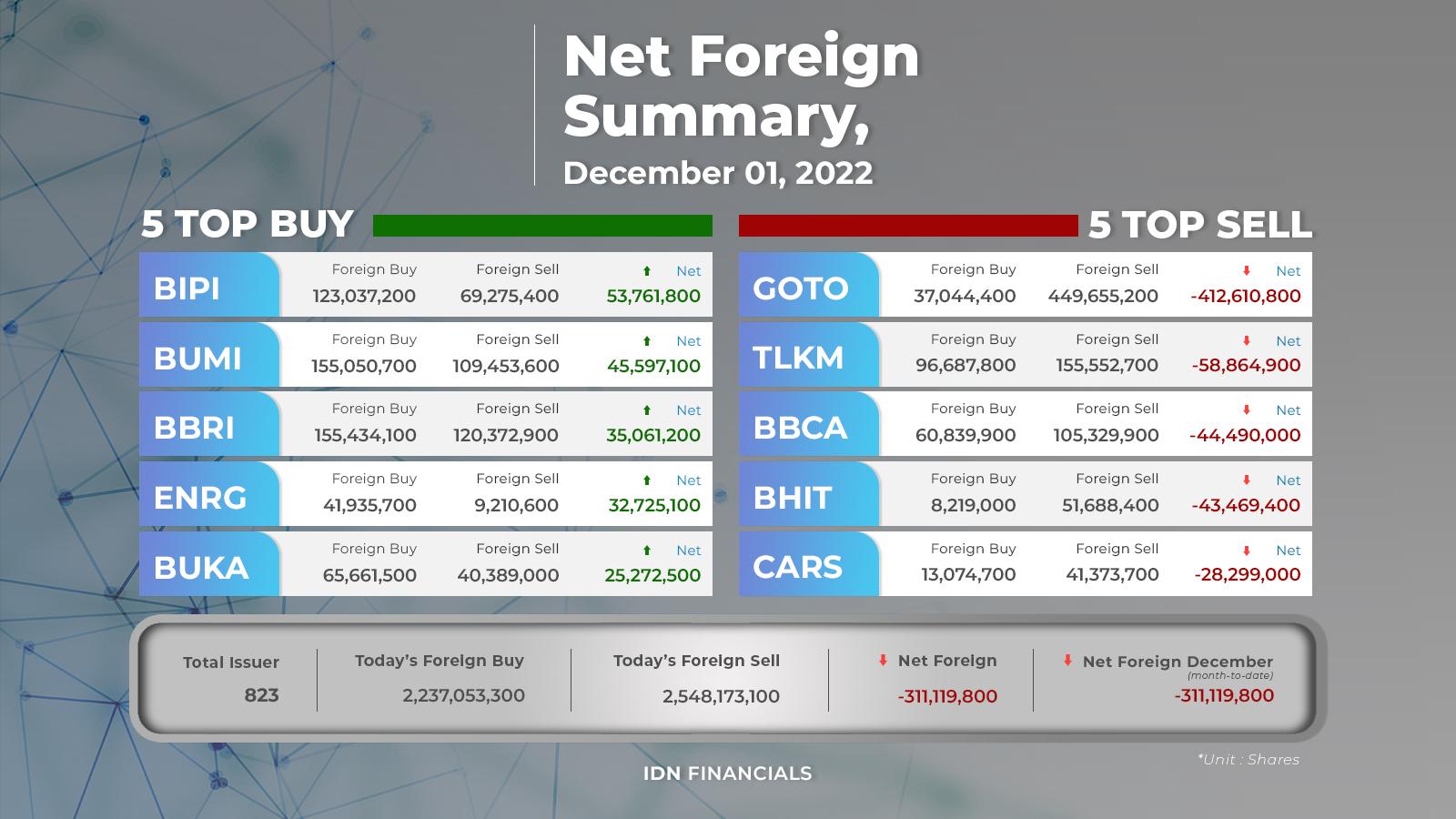 BUMI - PT. Bumi Resources Tbk
Rp 155
JAKARTA - The volume of foreign trade began at minus 311 million shares in early December 2022. The shares of PT GoTo Gojek Tokopedia Tbk, whose net volume was negative 412.61 million shares, were the biggest contributor to this loss after foreigners sold off 449.65 million GOTO shares on Thursday (December 1).
Foreign sales by two large issuers, PT Telkom Indonesia (Persero) Tbk (TLKM) and PT Bank Central Asia Tbk (BBCA), were also significant, with volumes of 155.55 million and 105.32 million shares, respectively. Foreigners also sold 51.68 million shares of PT MNC Asia Holding Tbk (BHIT), followed by 41.37 million shares of PT Industri Dan Perdagangan Bintraco Dharma Tbk (CARS).
On the investment front, PT Astrindo Nusantara Infrastructure Tbk (BIPI) shares had the highest net volume, with 53.76 million, after foreigners purchased 123.03 million BIPI shares. Despite this, PT Bumi Resources Tbk (BUMI) and PT Bank Rakyat Indonesia (Persero) Tbk (BBRI) reported the highest sales, both with over 155 million shares purchased by foreign investors. Finally, the trading list for foreign investors was closed with the purchase of 41.93 million shares of PT Energi Mega Persada Tbk (ENRG) and 65.66 million shares of PT Bukalapak.com Tbk (BUKA). (KD)

Read on for market news and guides only at IDN Financials!