GOTO Peopleverse Fund continues to transfer 58 million GOTO shares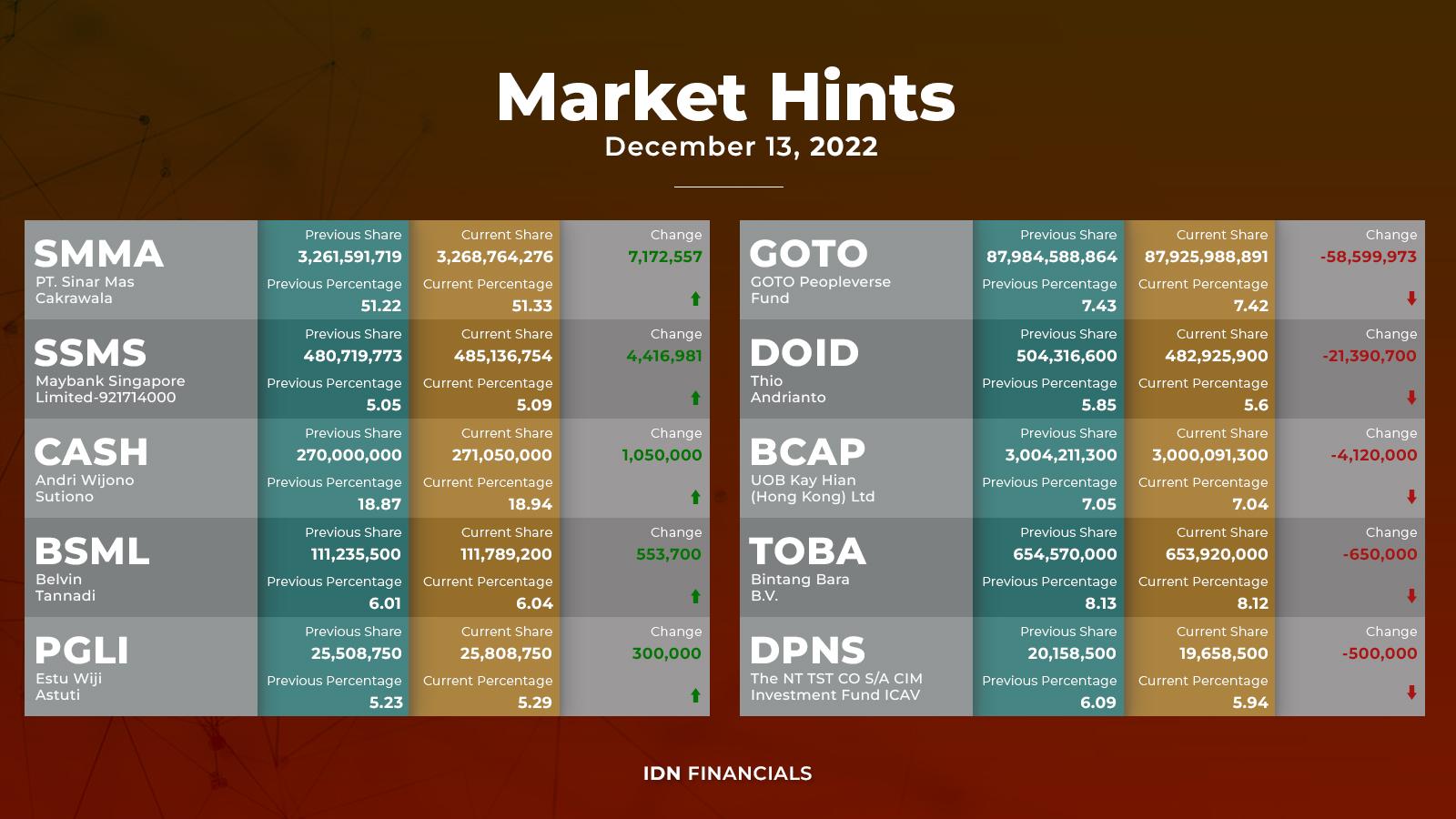 DOID - PT. Delta Dunia Makmur Tbk
Rp 304
JAKARTA - The GOTO Peopleverse Fund, or GPF, continued to transfer shares of PT GoTo Gojek Tokopedia Tbk on Tuesday, December 13. The Cayman Islands-based company is a GOTO vehicle for implementing the GOTO Employee and Consultant Share Option Program. GPF issued another 58.59 million shares to continue the execution of bonus shares for GOTO employees.

Individual investor Thio Andrianto then sold 21.39 million shares of PT Delta Dunia Makmur Tbk (DOID), reducing his ownership to 5.6% from 2.5%. Several foreign investors sold shares as well. UOB Kay Hian (Hong Kong) was the first to sell 4.12 million shares of PT MNC Kapital Indonesia Tbk (BCAP), followed by Bintang Bara B.V.'s sale of 650 thousand shares of PT TBS Energi Utama Tbk (TOBA), and completed by CIM Investment Fund ICAV, which released 500 thousand shares of PT Duta Pertiwi Nusantara Tbk (DPNS).

In contrast, PT Sinar Mas Cakrawala, the controlling shareholder, is seen increasing its ownership of PT Sinar Mas Multiartha Tbk (SMMA) by purchasing 7.17 million shares, followed by Maybank Singapore Limited, which purchased 4.41 million shares of PT Sawit Sumbermas Sarana Tbk (SSMS). Individual investors are also purchasing shares. Andri Wijono Sutiono purchased 1.05 million shares of PT Cashlez Worldwide Indonesia Tbk (CASH), followed by Belvin Tannadi, who purchased 553,700 shares of PT Bintang Samudera Mandiri Lines Tbk (BSML), and Estu Wiji Astuti, who purchased 300,000 shares of PT Pembangunan Graha Lestari Indah Tbk (PGLI). (KD)

Read the latest market hints and news on IDN Financials!