GOTO contributed the most foreign sales, making a negative 789 million in net foreign volume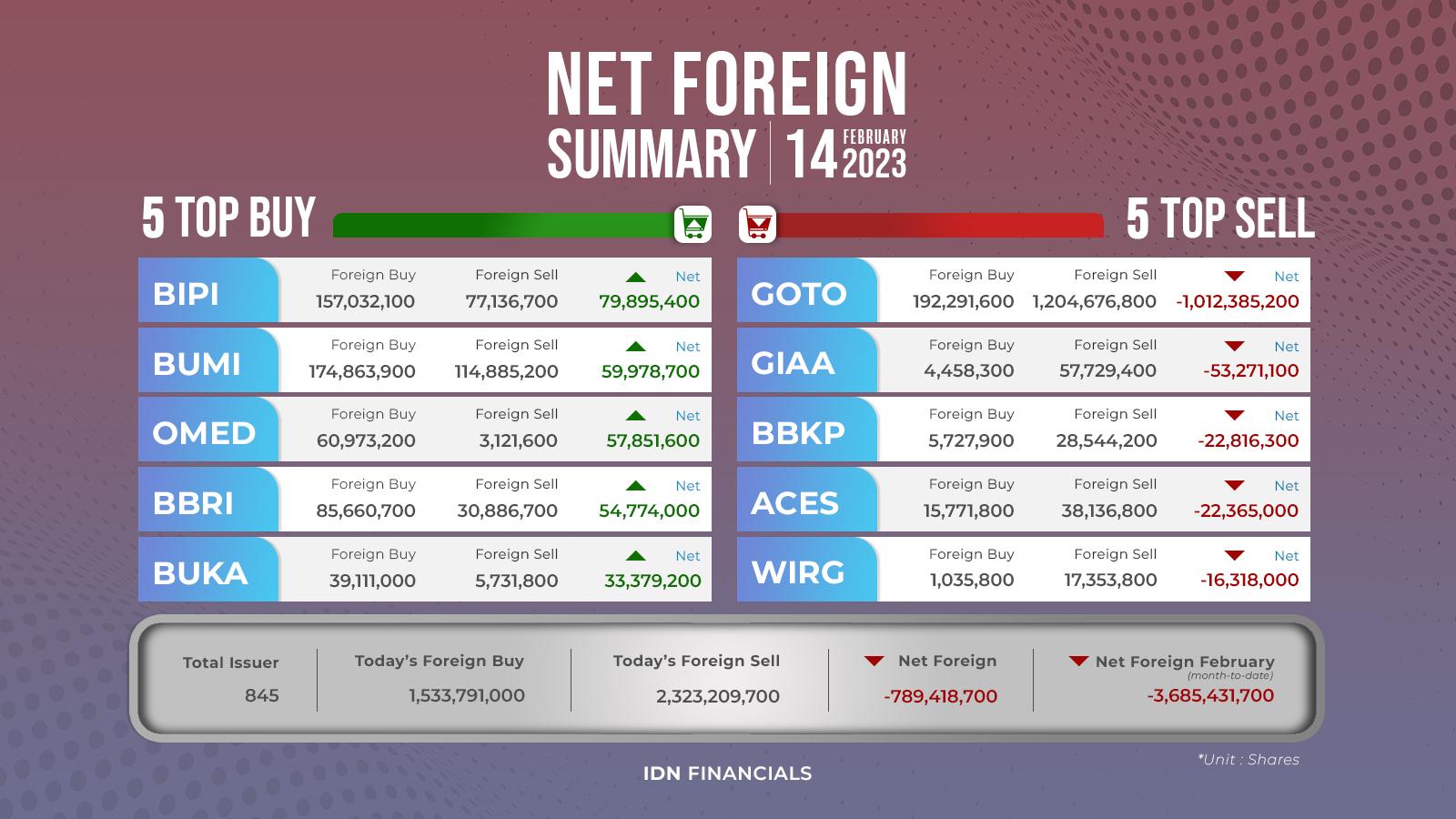 BUMI - PT. Bumi Resources Tbk
Rp 109
JAKARTA - Foreign trade transactions did not appear to be particularly busy on Valentine's Day, Tuesday, February 14. With a net foreign volume of -789,000 shares, the volume of shares purchased by foreigners was around 1.53 billion, while the volume sold touched 2.32 billion pieces. Just like the previous trading day, the most-sold shares are from PT GoTo Gojek Tokopedia Tbk (GOTO), with a sales volume of 1,204,676,800 shares and a net volume of -1,012,385,200. Meanwhile, the highest net volume was only 79.89 million shares, achieved by PT Astrindo Nusantara Infrastruktur Tbk (BIPI) after foreign investors purchased 157.03 million BIPI shares.

BIPI actually didn't have the highest purchase volume. PT Bumi Resources Tbk (BUMI) had it with 174.86 million shares. BUMI's net volume, however, only came in second, with slightly below 60 million pieces. Furthermore, two issuers, PT Jayamas Medica Industri Tbk (OMED) and PT Bank Rakyat Indonesia (Persero) Tbk (BBRI), reported a net volume of around 55 million shares after foreign investors purchased 60.97 million OMED and 85.66 million BBRI. In addition, 39.11 million shares of PT Bukalapak.com Tbk (BUKA) were also purchased, bringing the net volume to around 33 million shares.

Foreign shareholders, on the other hand, sold 57.72 million shares of PT Garuda Indonesia (Persero) Tbk (GIAA). Due to the small number of purchases, GIAA's net volume was quite low at -53.27 million. Foreigners also released 38.13 million shares of PT Ace Hardware Indonesia Tbk (ACES) and 28.54 million shares of PT Bank KB Bukopin Tbk (BBKP), for a net volume of around -22 million shares each. Finally, foreigners sold 17.35 million shares of the immersive technology issuer PT Wir Asia Tbk (WIRG) for a net volume of -16.31 million shares. (KD)

Only at IDN Financials can you find the latest net foreign news!