At 380 million, net foreign exchange has turned positive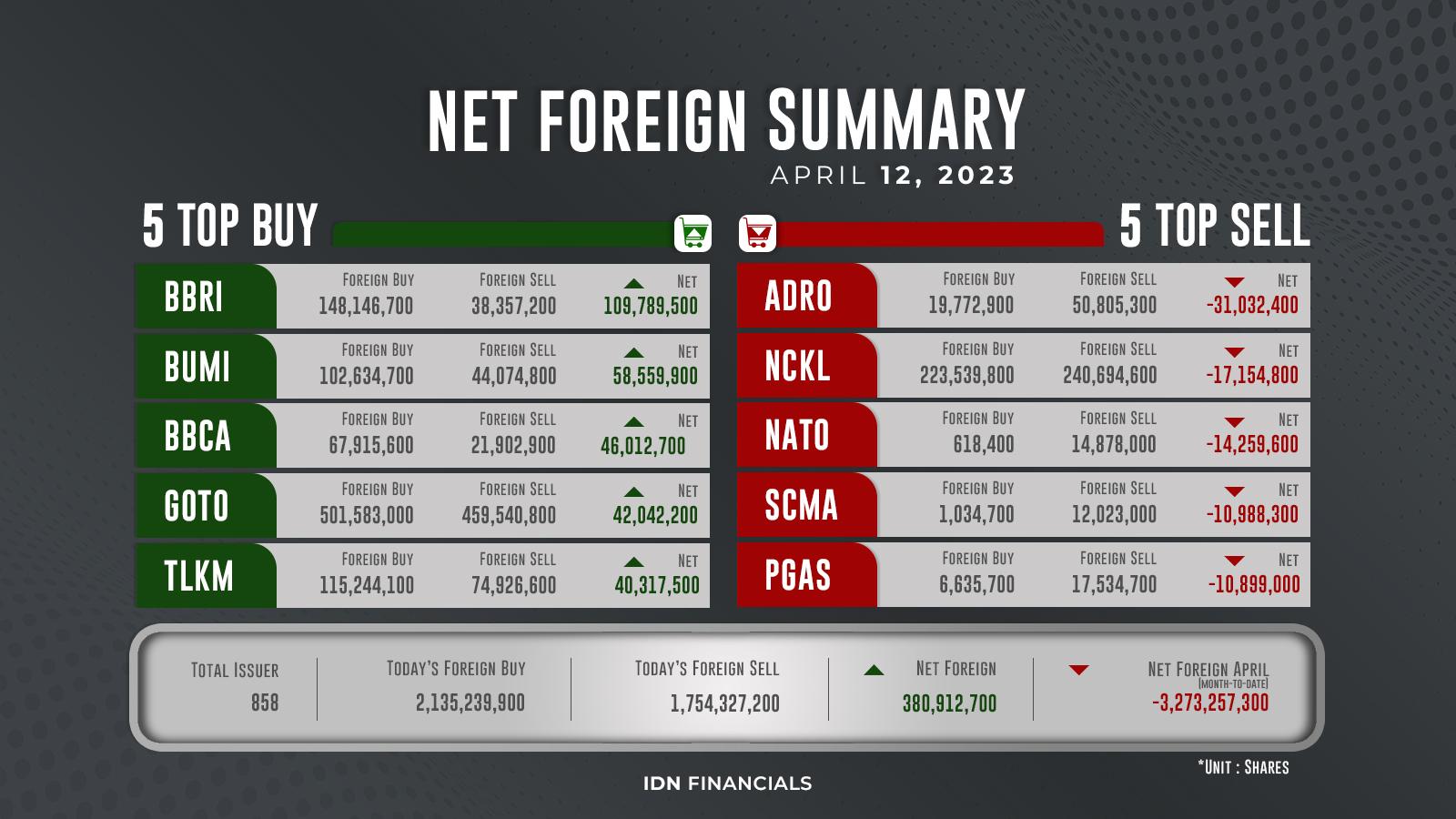 BUMI - PT. Bumi Resources Tbk
Rp 99
JAKARTA - Following several days in the red, net foreign trade volume turned positive on Wednesday, April 12. This time, the net volume was positive at 380,912,700 shares, resulting from the difference between the total shares purchased by foreign investors (2.13 billion shares) and the total shares sold (1.75 billion shares). After foreign investors purchased 148.14 million BBRI shares, PT Bank Rakyat Indonesia (Persero) Tbk (BBRI) became the issuer with the highest net volume this time, at 109.78 million shares.

PT GoTo Gojek Tokopedia Tbk (GOTO), in fact, had the highest foreign buy volume, with 501.58 million shares. However, due to the relatively high sales volume, GOTO's net volume was only around 42.04 million shares. Foreign investors also targeted 115.24 million shares of PT Telkom Indonesia (Persero) Tbk (TLKM) and 102.63 million shares of PT Bumi Resources Tbk (BUMI), bringing the net volumes of the two issuers to around 58.55 million TLKM and 40.31 million BUMI. Furthermore, a total of 67.91 million shares of PT Bank Central Asia Tbk (BBCA) were purchased, with a net volume of 46 million shares.

This time, however, the highest volume of foreign sales was 240.69 million shares of PT Trimegah Bangun Persada Tbk (NCKL). Regardless of this, the net volume of this nickel producer was only -17.15 million. After foreigners sold 50.80 million shares, the lowest net volume was -31.03 million shares from PT Adaro Energy Indonesia Tbk (ADRO). Then, they also sold 14.87 million shares of PT Surya Permata Andalan Tbk (NATO) with a very small purchase volume, resulting in a net volume of around -14.25 million shares. Finally, PT Surya Citra Media Tbk (SCMA) and PT Perusahaan Gas Negara Tbk (PGAS) both reported a net volume of more than -10 million shares after the release of 12.02 million SCMA shares and 17.53 million PGAS shares. (KD)

Update net foreign information only at IDNFinancials!